Every summer, the Athens Institute for Contemporary Art dedicates its walls to "Emerges," an annual exhibition now in its seventh year, that was specifically created to showcase local, up-and-coming artists. Co-curated between ATHICA director Tatiana Veneruso and multimedia artist Ted Kuhn, a 2012 BFA graduate and organizer of the bizarrely intriguing installation-based "Bulldog Inn Art Show," "Emerges VII" presents the works of six artists who are finding their voice, refining their style and experimenting with new media.
Though Athens has dozens of restaurants, coffee shops, salons and other random spaces in which artwork is regularly exhibited, it's still a small town with few galleries, making it all the more difficult for new artists to compete with professional and international names. Understandably, "Emerges" can be an important step for Athenians looking to establish themselves locally and expand to walls beyond their town.
"We like to stay relevant on a national and international scale, which is obviously really important for a contemporary gallery, but we also strive to be relatable to our community and support people here," says Veneruso.
Through the asymmetry and bright colors of his unusual canvases, Jason Matherly attempts to move the viewer's eye to the outer edges of his works, which are dotted with patches of bright brushstrokes, challenging the way traditional paintings are typically viewed head-on. "The curves and irregular contours of the shaped canvases serve largely to compete with the straight markings, hopefully creating varying degrees of tension," he says.
Matherly was a co-founder of the Cunny Isle Bemusement Park, a collaborative studio that operated from 2010-2013 on Barrow Street as an artist workspace that also hosted free monthly events centered around performance art, poetry, visual art, music and critique.
"One of the basic ideas was to counteract the stodginess we'd so often encountered at other events. Instead of being quiet and polite, we drank, we yelled, we laughed, we threw things—neither the performers nor the audience were guaranteed too much safety," he says. "It was a place to get dirty, to get and give unmitigated responses to work, and it was tons of fun."
Spanning the wall near the gallery's entrance, Christopher Nelms' installation is a giant collage of paintings, handwritten poems and notes, sketches, pages of books and more, all haphazardly arranged with red duct tape and pushpins. Nelms, who was also a key participant in Cunny Isle, demonstrates versatility and ease with experimentation through the variety of his collage's pieces.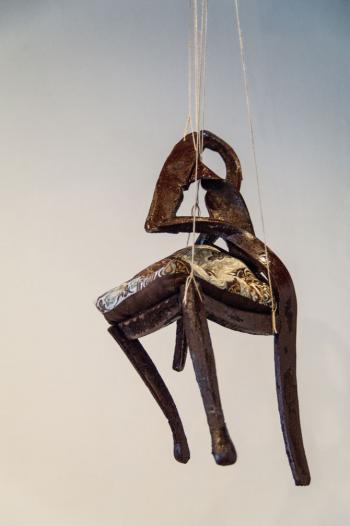 Jason Sokolic, currently a fine-art undergraduate at UGA, presents a Dalî-esque "dining room of the deranged and disoriented," complete with melted, warped chairs, a staircase, ceiling fan and plates of spaghetti.
"I wanted to demonstrate the physical qualities of one of my favorite synthetic materials: flexible polyurethane foam—the stuff stress balls are made of," he says. "With the material as the variable, we can really see how it acts in comparison to more familiar ones."
When 2012 UGA BFA in painting and drawing Addison Adams created his installation for "Emerges," he assembled a group of found or altered objects like textiles, pillows, traffic cones and a life vest into a corner, intuitively responding to the materials themselves as he went along.
"Athens is a really inspiring and wonderful town for emerging artists. The only challenges I've run into are finding spaces to show work regularly—other than restaurants and bars—and getting any sort of financial support to have the means, time, space, materials, to continue being productive. You can make it work, though," he says.
Adams, who recently did an outdoor light, sculpture and video installation and performance with his band Salsa Chest at The Goat Farm Sound and Vision Film Festival in Atlanta, will continue experimenting when he attends a three-month residency program for film in Wilmington, NC, this fall.
Jordana Dale, who recently received her BFA in photography from the Lamar Dodd School of Art, presents a series of 16 portraits showing young couples sharing tender moments and also a handful of contemplative singles alone in their bedrooms. Though the snapshots seem candid, at times even bordering on voyeuristic from their level of intimacy and vulnerability, Dale uses models to create narratives from her own experiences. The muted palette and minimalism of the scenes mirror the difficulty of recollection, evoking a wistful nostalgia for delicate memories.
Though Gabriel Cymerman-Bird considers himself to be more of a craftsman than an artist, he has been creating LED light sculptures for the past few years and participated in ATHICA's "CONTENT" show last year among 70 artists from around the world. He contributes two larger pieces for "Emerges," one with a collection of multi-colored orbs and one that uses mirrors and lights to create an optical illusion.
"Whether in Athens or anywhere else, being an artist is the hardest job anyone can try to have from a financial standpoint. There's a lot of competition, and the market definitely has more sellers than buyers," says Veneruso. "From a creative standpoint, it's hard not to become lost in the masses. But you have to stay true to yourself and not worry about the market."
Special events for "Emerges VII" include "Surfacing: The Art of Body Painting," organized by Melissa Biel, on Saturday, Aug. 2 from 7–9 p.m.; a children's workshop on Sunday, Aug. 17 from 2:30–4:30 p.m.; and a closing reception on Sunday, Aug. 24 from 4–6 p.m.
Like what you just read? Support Flagpole by making a donation today. Every dollar you give helps fund our ongoing mission to provide Athens with quality, independent journalism.