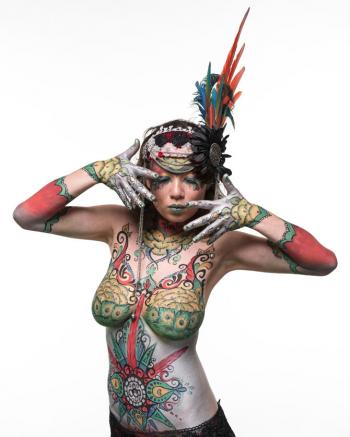 Photo Credit: Tom Meyer
Earthly TLC: Combining body art, eco-focused fashion and live music, Love Your Mother Earth—a Valentine's show set for Saturday, Feb. 15 at New Earth—will highlight sustainable trends while raising funds for the Northeast Georgia Earthship, a self-sustaining house handmade using natural and recycled materials. Owned by event organizer Rosemary Kimble and her fiancé Andrew Hickman, the Earthship is the first home of its kind in Georgia—located in Royston, roughly 40 minutes north of Athens—and aims to rely on natural energy sources as much as possible.
"I first learned about Earthships 20 years ago when I visited Taos, NM, for the first time and saw one. I said then that I wanted to have one myself one day. I was young, and then, never hearing of them or seeing one again, I forgot all about them. Then about five years ago, I saw a video at the library called Garbage Warrior, and being an avid recycler and found object artist for years already, it intrigued me. The video was the documentary of Michael Reynolds' work building Earthships in Taos for the past 30 years." says Kimble. "[Andrew] had recently sold his foam insulation business to his business partner, wanting to get out from under a struggling business in a very poor economy, and seeking something he could be truly passionate about… Within a few months he had gone to Taos to intern with Earthship Biotecture and learn to build them himself."
Though this is Kimble's first major show in Athens, she's no stranger to spearheading large events. With several years of experience as a costume artist already under her belt, she moved to New Orleans in 1997, where she quickly picked up body painting and Henna tattooing, later becoming the first Henna street artist licensed to work in Jackson Square. Over the past 20 years, she has put together numerous body art events, most recently the Body Art Ball in Atlanta, which is a part of the official North American bodypainting championship, Living Art America. This year she plans to remount the Flesh Art Show, which was last held in New Orleans just before Hurricane Katrina, when she moved to Georgia.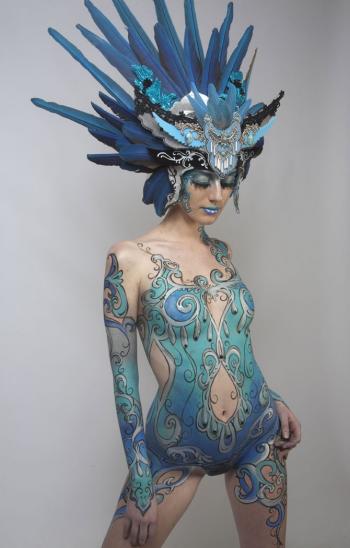 Photo Credit: Chad Awalt
Love Your Mother Earth will kick off at 8 p.m. with three fashion shows. Local boutique Agora will present vintage styles, and designers Michael Pierce and Stina Anderson will show off their latest up-cycled ensembles. For the final show, a collection of artists—Melissa Biehl, Morgan J. Booker, Oziel Guevara, Janis Hastings, Roberto Hernandez, Bert Huggs and Rod Montoya—will display Earth-themed, full-body painting with models sporting cruelty-free feather headdresses made through Feather Drop, Kimble's small organization that collects and reuses naturally molted feathers.
Several performances will be held in between and during the fashion shows, including acts by aerialists Lauren Puls and Kat Saxon from Canopy Studios, bellydancers Christy Fricks and Clara Mongoose from FloorSpace Studio and hula hoopers Kim Nicole and Carla Cella. Specialty act Krista Harris will dance with her live macaw and cockatoo while wearing a headdress created by Kimble using the macaw's feathers. Live music will follow around 10 p.m., with performances by country act The Law Band and alternative rock trio Kick the Robot. Tickets are $10 at the door.
Treat Yourself: For anyone wishing to find a special Valentine's gift for their loved one or themselves, Indie South Fair will host its second annual Handmade Lovers event on Friday, Feb. 14, from 2–7 p.m., at the Athens Heritage Foundation, located at 489 Prince Ave. The mini artist market will feature 20 vendors—including small-batch sweets by Unruly Chocolates, wood-burned Valentines by Jess Dunlap and metal-smithed jewelry by Rhys May—with items ranging from vintage and handmade clothing, herbal-infused body products, terrariums, flower crowns and household goods. Neighboring business Model Citizen will offer hair chalking and braiding for $1 donations, and Avid Bookshop will host a Valentine card-making station.
Art in the Heart of Athens: The Athens Cultural Affairs Commission recently announced its new Arts in Community Grants, two $500 grants set aside for public art. All local organizations, design teams and individual artists are invited to submit proposals for projects, events or activities of any art form—visual, functional, performance, technology. The grants will be awarded based on the level of community enrichment, contribution to local identity and quality of artistic merit. Email athensculturalaffairs@gmail.com to request an application. Proposals are due Friday, Feb. 28.
Like what you just read? Support Flagpole by making a donation today. Every dollar you give helps fund our ongoing mission to provide Athens with quality, independent journalism.