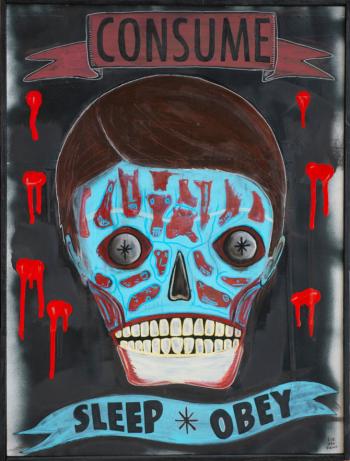 Fiendish Five: The Fiendish Five! Art Show, currently on display at Flicker Theatre & Bar at 263 W. Washington St., presents a fun lineup of devilishly great artwork in celebration of Halloween. Dan Smith a.k.a. See Dan Paint! contributes his signature "spontaneous monsterfication" paintings, created in a cartoonish pop art style influenced by comics and skateboard art, including a giant panel of 72 monsterfied portraits in red, black and white. John Stidham creates tricolor screen prints centering on strong emotions like the anguish of a drowning man and the terror of a woman hiding in tall grass from a hunter. Cindy Jerrell's bewitching, wooden puppets—one housed in a theater-like shadowbox, the other two on handles—are simultaneously playful and vaguely unsettling. The show is rounded out by brightly colored, light-hearted illustrations of animals in costume as other animals by Joe Havasy and goosebump-inducing illustrations by tattoo artist Mike Groves. A reception with the artists will be held Friday, Oct. 25, 5 p.m.–8 p.m., and the exhibit will be on display through the end of the month.
Penumbra: The fifth annual Penumbra Halloween Art Show, housed in a pop-up gallery located at 127 N. Jackson St., will showcase a collection of creepy, eerie and peculiar works each day through Thursday, Oct. 31 from 12 p.m.–10 p.m. A special reception on Friday, Oct. 25 at 7 p.m. will include a costume contest, carved pumpkin contest, Tarot readings, door prizes and a fortune telling station with Anni Paisley, inspired by the old-fashioned fortune teller machines of penny arcades and amusement parks. A photo booth area will be available to shoot portraits of creative costume throughout the duration of the exhibit. The exhibit is organized by Jennifer Schildknecht of Over the Moon Creative Possibilities and husband Tim Schildknecht of Fringe Alternative Image Works, whose studios are located next door. The exhibit features some of the most Halloween-centric works currently displayed in town. The collection of 15-plus artists includes disturbing paintings of figures with staring eyes by Kelly Gorman, digitally manipulated photographs of human skulls by Stefan Eberhard, dark and alluring photo portraits by Craig Gum and an impressive, illuminated paper mache dragon bursting through a wall created together by Jennifer and Tim Schildknecht. The exhibit will continue taking art submissions through Thursday, Oct. 24, and interested artists should call 706-540-2727.
Lickskillet: Over 85 local artists will come together on Saturday, Oct. 26, 10 a.m.–4 p.m., at the Lyndon House Arts Center, located at 293 Hoyt St., for the fourth annual Lickskillet Artists Market & Festival. An array of eclectic wares will consist of fiber art, jewelry, paintings, photography, stained glass, woodturning, ceramics and more. Local high school art departments will exhibit student art works, and a special exhibit of digital media prints by the late musician Richie Havens will be on display in the Ronnie Lukasiewicz Gallery. Lickskillet pulls its name from the fashionable in-town neighborhood which once surrounded the Ware-Lyndon House, a circa 1840s late Greek Revival home listed on the National Register that has been restored with decorative arts and furnishings of the period. The house will be open for tours, and the free, family-friendly festival will also include live art demonstrations, author appearances and children's activities like face painting, mask making, chalk murals and a pumpkin patch. Food trucks including Rita's Italian Ice, GiGi's Cupcakes and Lil Ice Cream Dude will be on hand for snacks. Live music includes Larry Forte (10 a.m.), Dan Wilson on Scottish bagpipes (10:30 a.m.), Quamar Tribal Odyssey Belly Dancers (11 a.m.), Grape Soda (11:30 a.m.), Grayson of Sound Source Rebellion (12:10 p.m.), Laura Connely (12:40 p.m.), Scott Low of Efren (1:10 p.m.), DixieLand 5 (1:45 p.m.), Grassland String Band (2:30 p.m.) and The HEAP (3:15 p.m.).
Festiboo: Farmington Depot Gallery, located about 15 miles south down Hwy. 441 at 1001 Salem Rd. in Farmington, will host its fourth annual Festiboo Fall Festival on Saturday, Oct. 26, 10 a.m.–6 p.m. A special artist market will feature works ranging from pottery, textiles, crafts, folk art and fine art. Costumes are encouraged, and the free event will be rounded out with food, live music, kids' activities and haunted hayrides. The gallery, housed inside a historic train depot, is owned and staffed by local artists, and the event doubles as an opportunity to view the latest paintings by John Cleaveland, Matt Alston, Dan Smith and Leigh Ellis; sculptures by Michael Pierce and Phil Goulding; ceramics by Pat McCaffrey and Cheri Wranosky; folk and outsider art by Peter Loose, Chris Hubbard and Dave Kirwin; woodworks by Nick Joslyn and glassworks by Larry Hamilton.
Heads Will Roll: Presented by Model Citizen Salon, "Heads Will Roll" merges art, music and philanthropy into a costumed bash on Thursday, Oct. 31, beginning at 8 p.m., at Stan Mullins Art Studio, located at 650 Pulaski Street. The event features live music by Dead Confederate and The Powder Room, Tarot readings by Doamna Sansa, a photo booth and costume contest. Twenty local artists including Mike Groves, Erin McIntosh and Ian Guthrie will transform the salon's old hairdresser mannequin heads into weird works of art to be sold off in a silent auction. Proceeds will benefit Community Connection of Northeast Georgia, a network that helps connect volunteers to non-profit organizations and people in need to agencies that can help. Tickets are $10 ahead of time or $15 at the door, and can be purchased in advance at Model Citizen or online at headswillrolltickets.bigcartel.com.
Like what you just read? Support Flagpole by making a donation today. Every dollar you give helps fund our ongoing mission to provide Athens with quality, independent journalism.