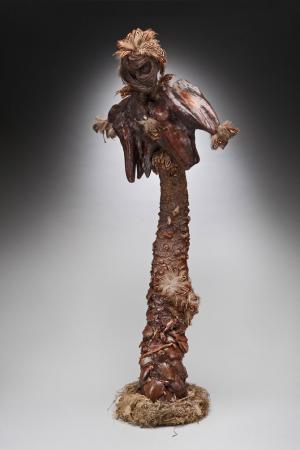 Beat of a Different Drum: Anyone who has ever found the shapes of animals in clouds or faces in trees will likely appreciate the mixed-media figures of Barbara Odil, currently on display in "The Spirit Show" at Athens Academy's Myers Gallery through Feb. 22.
Each delicate doll, gently assembled from natural materials like seed pods, coral, driftwood, lichens, bones and mushrooms as well as the occasional manmade object like antique doll heads or lace, demonstrates an extreme sensitivity towards color, shape and texture. Often standing under a half-foot tall, these tiny creatures don't necessarily resemble specific organisms; rather, they take on an organic life form of their own as material figments of the imagination. Odil's spiritual fascination and deep reverence for the natural world stem from her own shamanic practice, which inspires and guides both her personal life and creative work.
"I first began studying indigenous spiritual teachings in the early '70s. I hail from Macon, GA, and there was a music scene happening then, which, together with the peace movement, created a consciousness shift in many of us. We were disenchanted with the status quo and sought alternative spiritual answers. So, we read everything we could by Ram Dass, Native-American teachers, yogis. We lived in the country, grew our own food and canned it and practiced alternative lifestyles," Odil recalls. "Then, I married, had children and focused on that for 12 years. When they were older, I returned to my spiritual quests. I took a ritual workshop from Luisah Teish, a Yoruban priestess, and it reawakened my interest in indigenous spirituality."
Odil, who is a certified color therapist in addition to a practiced shaman, has been teaching experiential workshops that combine spiritual and creative practices through shamanic journeying for nearly two decades.
"There are many practices of shamanism, but they all share a common thread of enabling the practitioner to connect or reconnect to nature. Some practices incorporate hallucinogenic drugs and rhythmic sound; others rely solely on repetitive sound. I work with Western Shamanism, which uses rhythmic sound to achieve an altered state of consciousness. Shamanic training empowers the practitioner to step out of ordinary thought and into the subconscious. The imagination is activated, expanding one's perception," she explains.
Similarly inspired by the spiritual and cultural practices of indigenous groups is participating artist Claire Dunphy (mother of local gallery curator Didi Dunphy), who has sung in Mayan, Australian Aboriginal, Lakota and Dayaks of Borneo ceremonies, is a recognized voice healer in Bali and an adopted daughter of the Algonquin Clan of Healing Elders. Dunphy's "Medicine Stones" series includes combinations of symbolic images and sacred stones from around the world painted onto tapestries. Dunphy has created over 60 rock circles decorated with depictions of animals and stars, left scattered across the globe like cosmic breadcrumbs, and has included one outdoors to the left of the gallery's entrance.
Also showing work at the gallery, Reverend Anthony Salzman, priest of St. Philothea Greek Orthodox Church in Watkinsville and professional Byzantine iconographer, contributes examples of how art can become a visual backdrop to religious practice with two large-scale portraits of prophets Daniel and Moses and a wall-spanning mural of Jesus from the ceiling of Sophia Greek Orthodox Church in New London, CT. Mary Padgelek, author of In the Hand of the Holy Spirit: The Visionary Art of J.B. Murray­—a book about a self-taught outsider artist from rural Georgia who believed he was communicating God's message through his art—creates folksy mixed-media altars and bold watercolor paintings of natural scenes. Wendy Ortel similarly explores spirituality in nature through stained-glass images of animals and plants, as does Scott Pope with his vibrant oil paintings of abstract horizons. Delving deeper into the mysterious mechanics of the natural world is Ana Anest, whose colored pencil drawings and oil paintings range from spiral galaxies and wormholes to the Golden Spiral of a chambered nautilus shell and geometric optical illusions inspired by M.C. Escher.
On the Cover: Drawn from an extensive private collection of early-20th century works created by numerous peoples in sub-Saharan Africa, "From Savanna to Savannah: African Art from the Collection of Don Kole" at the Georgia Museum of Art spans from royal regalia like a Nigerian king's sword and Liberian chief's chair to sacred ceremonial relics like the blackened wood helmet masks worn to initiate young women into adulthood by the Sande female secret society of the Mende people in Sierra Leone.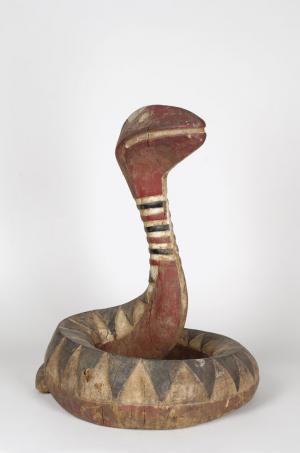 Often performative in nature, the majority of traditional African art places a strong emphasis on three-dimensionality and utilitarianism, allowing headdresses, masks and garments to transform wearers into living sculptures during ceremonial practices.
While the human figure is the predominant primary subject matter—taking form in fertility dolls, power statues, protective figurines, identity-obscuring face masks and even a pair of unique musical instruments in the shape of small people with hollow bellies— it's often represented abstractly with a disregard for naturalistic depiction, a technique that strongly influenced the style of Western modernism.
The museum will host "Family Day: From Savanna to Savannah" on Saturday, Feb. 16, at 10 a.m., which includes a kid-friendly tour and an opportunity for children to create their own masks inspired by the exhibition. The collection is on display through Apr. 14.
Like what you just read? Support Flagpole by making a donation today. Every dollar you give helps fund our ongoing mission to provide Athens with quality, independent journalism.