ARTWALL@HOTEL INDIGO ATHENS (500 College Ave.) Nancy Everett's solo show "Classic Inspirations" includes paintings that celebrate Athens and the Southeast. Opening reception Feb. 16, 5–6:30 p.m. Through mid-May.
THE ATHENAEUM (287 W. Broad St.) "Kara Walker: Back of Hand," the first solo exhibition to be held in Georgia of the work of this internationally renowned artist, includes a series of new works on paper that examine themes such as complicity, racism, misremembered histories and the violence that undergirds the legacy of the South. Symposium on Feb. 25, 9 a.m.–7 p.m. Through Mar. 23.
ATHENS-CLARKE COUNTY LIBRARY (2025 Baxter St.) "We Are All Makers" features artwork by Lyndon House Arts Center staff members Jaime Bull, Toni Carlucci, Didi Dunphy, Kathryn Refi, Ciel Rodriguez, Beth Sale, Williams Stephanos and Shannon Williams. Through Feb. 12.
ATHENS INSTITUTE FOR CONTEMPORARY ART: ATHICA (675 Pulaski St.) Part of ATHICA's "Solo Duo Trio" series, "Trio: Lauren Bradshaw, Daniel Brickman and Jeanne Ciravolo" combines work united by visceral and unusual use of fiber and other materials, referencing the body, the tactile and the experiential. Through Feb. 12.
ATHICA@CINÉ GALLERY (234 W. Hancock Ave.) Atlanta-based artist Alice Stone-Collins shares "Domus Domus," a collection of intricate hand-painted collaged pieces. Through Feb. 25.
AURUM STUDIOS (125 E. Clayton St.) Susan Pelham's collages are influenced by Magic Realism, Surrealism, fairy tales and nursery rhymes. Through March.
CLASSIC CENTER (300 N. Thomas St.) "Spotlight: Paintings by Amy Watts" presents bold, colorful canvases full of cowgirls, farmers, miners and Indigenous people. • "Light Bright" presents works by Caitlin Gal, Allison McPheeters and Alivia Patton, who all utilize simple circles to create inspiring works.
DODD GALLERIES (270 River Rd.) "Insatiable Fire" features new works by Atlanta-based artists Demetri Burke, Noah Reyes and Sergio Suárez. Through Feb. 23. • "Certainty Still Pending" showcases the work of first-year MFA students at the Dodd. Through Feb. 23. • "Kara Walker: Prince McVeigh and the Turner Blasphemies" is a stop-motion animation of cut-paper silhouettes who reenact several infamous acts of white supremacist history in the country's recent history. Through Mar. 30.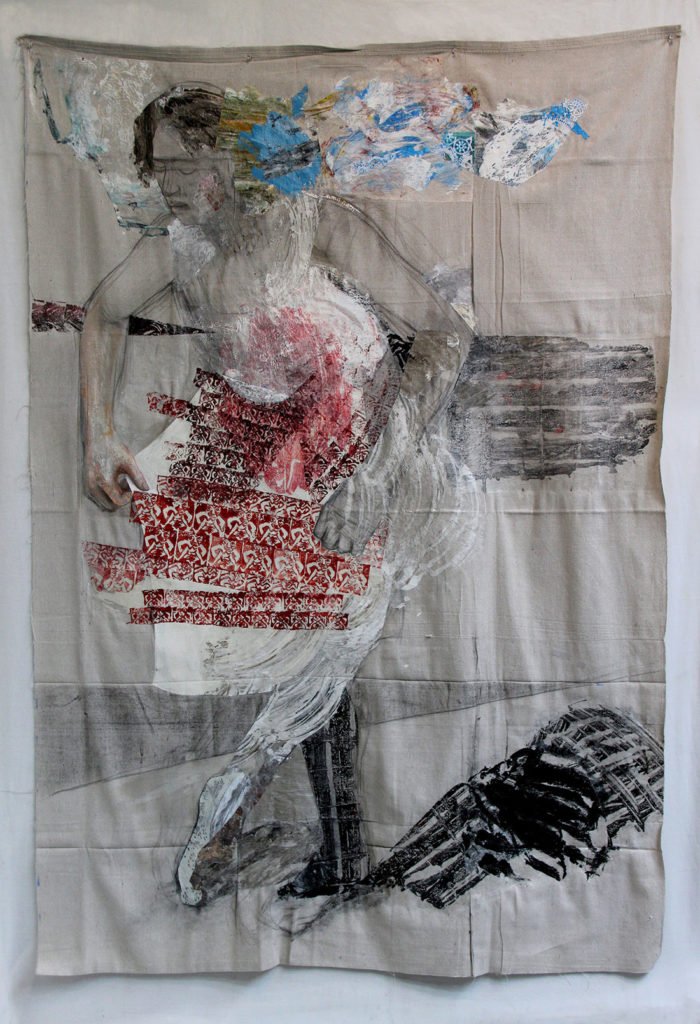 THE GEORGIA POTTERY COLLECTIVE (560 Caldwell Circle) Jen Graff, Yoon Hwang and other local ceramicists sell sculptural and functional pottery. Every Wednesday and Sunday, 7 a.m.–7 p.m.
FLICKER THEATRE & BAR (263 W. Washington St.) Paintings by Seth Martin. Through February.
GEORGIA MUSEUM OF ART (90 Carlton St.) On view in the Jane and Harry Willson Sculpture Garden, "Jane Manus: Undaunted" includes five large abstract works. Through Feb. 12. • Spanning the 18th century to the present, "Object Lessons in American Art" features over 100 works of Euro-American, African-American and Native American art from the Princeton University Art Museum's collection. Through May 14. • "In Dialogue: Henry Ossawa Tanner, Mentor and Muse." Through June 18. • "Decade of Tradition: Highlights from the Larry D. and Brenda A. Thompson Collection." Through July 3.
GLASSCUBE@INDIGO (500 College Ave.) Zane Cochran presents "Aurora," a sculptural interpretation of the aurora borealis using 3D geometric figures and lights.
JITTERY JOE'S DOWNTOWN (297 E. Broad St.) Susan Pelham's collages are influenced by Magic Realism, Surrealism, fairy tales and nursery rhymes. Through February.
LAST RESORT GRILL (174 W. Clayton St.) Troy Ayers presents oil paintings while Amanda Ayers shares travel photography. Through March.
LYNDON HOUSE ARTS CENTER (211 Hoyt St.) "Resilient Civic and Musical Life: Ware-Lyndon House Enslaved and Descendant Stories" includes a film; reading room of books relevant to the African American experience in art, music and heritage; and a visual timeline relating a fuller and more truthful story of the property and its inhabitants. On view Thursdays–Saturdays. • Bess Carter, the recipient of the 2022 Art Center Choice Award from the 47th Juried Exhibition, presents a solo show of landscapes, room interiors and still life paintings. Artist talk Feb. 16. Currently on view through Mar. 4. • "A Pattern of Moments" features works by Kate Burke, Rebecca Kreisler and Sylvia Schaefer. Through Mar. 4. • In preparation for "The Same, Yet Separate Artworks," metalsmith and interdisciplinary craft artist J Taran Diamond toured the Ware-Lyndon Historic House Museum and created new objects in response. Through Mar. 4.
MASON-SCHARFENSTEIN MUSEUM OF ART (567 Georgia St., Demorest) "Unframed Images: Photography from the Collection of P.H. Polk" spotlights the official photographer for Tuskegee University from 1939–1984 who photographed many Civil Rights events of the mid-twentieth century. Lecture Feb. 16, 3 p.m. Through February.
OCONEE COUNTY LIBRARY (1080 Experiment Station Rd.) The Athens Art Association shares a variety of works by its members. Artist reception Feb. 12, 2–4 p.m. Through March. • Artwork by La Ruchala Murphy. Closing reception with live music by Trevon on Feb. 25, 6–8 p.m.
OCONEE CULTURAL ARTS FOUNDATION (34 School St., Watkinsville) "Georgia Mountains to the Shore" demonstrates the diverse landscape of Georgia through artworks by Evelyn Beck, Lynne Harrill, Sara Quattlebaum, Cynthia Steward, Denny Webster and Kathryn Weston. • "A Brush with Murder: Novel Art by the Wonders of Watercolor Group" celebrates the release of a new book by Gail Langer Karwoski that was inspired by the WOW group that meets each week at OCAF to paint together. • "New Horizons: Mixed Media Work by ESP Students" features participants of the "Get Crafty" class at Extra Special People. • "Fabric Storm by Bobbi Johnson" is a mixed-media installation incorporating umbrellas, fabric, netting, ribbon and other materials. Through Feb. 10.
ODUM SCHOOL OF ECOLOGY GALLERY (140 E. Green St.) Natural science illustrator C Olivia Carlisle shares insect, botanical and ecosystems illustrations using graphite, carbon pencil, watercolor, acrylic, ink, color pencils and Adobe Photoshop. Through May.
STATE BOTANICAL GARDEN OF GEORGIA (2450 S. Milledge Ave) Elizabeth Barton's collection of quilts and watercolors are inspired by the practice of shinrin-yoku, or "forest bathing." Through Mar. 5.
TINY ATH GALLERY (174 Cleveland Ave.) Gary Autry presents "The Therapeutic Nature of Travel." Closing reception Feb. 9, 6–9 p.m.
UGA SPECIAL COLLECTIONS LIBRARIES (300 S. Hull St.) "Unequal by Design: Housing in Georgia and America" draws upon historic government documents, photographs, historic newspapers and other records to trace the evolution of housing policy, tackling issues such as zoning, gentrification and suburbanization. Through May 26. • "A Chance to Play: Title IX and Women's Athletics at UGA" celebrates 50 years of women's sports at UGA. Through May. • "Freemasonry in Georgia: Ideals, Imagery and Impact" presents items that demonstrate the ambitions and tensions that existed within the secret society. Through July 7.
UNITARIAN UNIVERSALIST FELLOWSHIP OF ATHENS (780 Timothy Rd.) The newly named Claire and Robert Clements Gallery debuts with a collection of oil paintings by Robert Clements.
WINTERVILLE LIBRARY (115 Marigold Lane, Winterville) Nature photography by Ken Storey. Through Mar. 24.
Like what you just read? Support Flagpole by making a donation today. Every dollar you give helps fund our ongoing mission to provide Athens with quality, independent journalism.