ACE/FRANCISCO GALLERY (675 Pulaski St., Suite 1500) Established by Jason Thrasher and Beth Hall Thrasher, the gallery's grand opening features "Vernon Thornsberry: New Works in Painting, Charcoal & Sculpture." Through June 23.
ARTWALL@HOTEL INDIGO ATHENS (500 College Ave.) "Quiet Marks" presents works by Kathryn Refi, In Kyoung Choi Chun and Shirley N. Chambliss. Through July 8.
ATHENS-CLARKE COUNTY LIBRARY (2025 Baxter St.) "The Real, The Ideal" is a solo show by Lynette Caseman, a local artist who received a grant from the Athens Area Arts Council to support her work. Through July 17.
ATHICA@CINÉ GALLERY (234 W. Hancock Ave.) "So Much More" presents Lisa Freeman's mixed media collages and assemblages that address the limitations frequently imposed on women in a patriarchal society. Through June 25.
CLASSIC CENTER (300 N. Thomas St.) "Hello, Welcome!" presents abstract worlds by Maggie Davis, Jonah Cordy, Carol MacAllister and Jason Matherly. • "Classic City" interprets the city of Athens, GA through the works of James Burns, Sydney Shores, Thompson Sewell and Allison Ward.
FLICKER THEATRE & BAR (263 W. Washington St.) Jeff Rapier's portraits feature famous rock and rollers as well as local musicians, while Gary Autry's artwork is full of abstract designs and intricate linework. Through June.
GEORGIA MUSEUM OF ART (90 Carlton St.) "Carrie Mae Weems: The Usual Suspects" implicates racial stereotypes in the deaths of Black people at the hands of police and confronts the viewer with the fact of judicial inaction. Through Aug. 7. • As a visual response to Carrie Mae Weems' exhibition, "Call and Response" is a selection of works from the museum's collection that considers the intersection of race and representation in the works of other African American artists. Through Aug. 7. • "In Dialogue: Views of Empire: Grand and Humble" displays two print collections that create a conversation about what it meant to be a working-class citizen in mid-19th-century Russia. Through Aug. 21. • "Jennifer Steinkamp: The Technologies of Nature." Through Aug. 21. • "Graphic Eloquence: American Modernism on Paper from the Collection of Michael T. Ricker." Through Sept. 4. • "Decade of Tradition: Highlights from the Larry D. and Brenda A. Thompson Collection." Through July 3, 2023.
GLASSCUBE@INDIGO (500 College Ave.) Zane Cochran presents "Aurora," a sculptural interpretation of the aurora borealis using 3D geometric figures and lights.
HEIRLOOM CAFE (815 N. Chase St.) Printmaker and book artist Taylor DiFonzo presents a collection of works. Opening reception June 28, 5:30–6:30 p.m. Through Aug. 29.
JUST PHO… AND MORE (1063 Baxter St.) Susan Pelham's collages are influenced by Magic Realism, Surrealism, fairy tales and nursery rhymes. Through June.
LYNDON HOUSE ARTS CENTER (211 Hoyt St.) AJ Aremu presents a large-scale installation for "Window Works," a site-specific series that utilizes the building's front entrance windows for outdoor art viewing. • "Picture This" features the artwork of 11 Georgia-based painters who focus on narratives. • "Maps, Landforms and River Rafts" is a series of art quilts by Cathy Fussell on view alongside works by her daughter, Coulter Fussell. • "Robert Croker: At Random 2022" is a new suite of watercolors. Artist talk June 24, 12 p.m. • Jason Matherly's "For Heather: New Shaped Paintings" is a collection of color-block works installed against a painted ground. • Collections from our Community presents "Winfield & McNeal's Fleet," a collection of vintage Tonka Trucks and '70s Hot Wheels. Through Aug. 20. An opening reception for all new exhibitions will be held June 23, 6–8 p.m.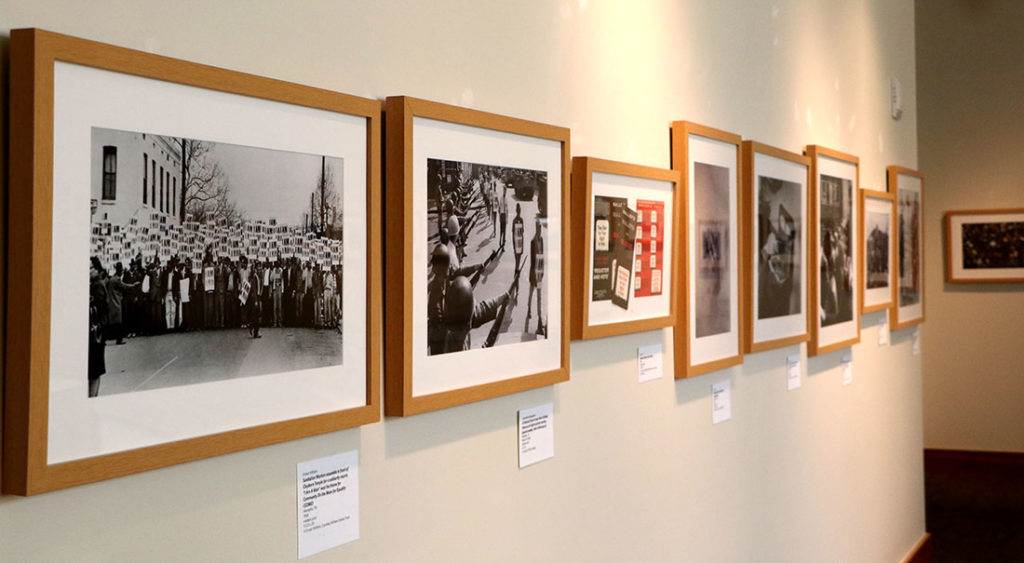 MADISON-MORGAN CULTURAL CENTER (434 S. Main St., Madison) On view in the Collector's Cabinet is a display of Chinese Export Porcelain owned by the Morehouse family. Through June. • "Earth Bound: David Drake and Zipporah Camille Thompson" brings new light to the life and work of Drake, an enslaved African-American whose works of pottery from the mid-1800s are now sought world-wide. A second installation features ceramic work by contemporary artist Thompson. Through July 16.
OCONEE COUNTY LIBRARY (1080 Experiment Station Rd.) Artwork by Bobbi Johnson. Through June.
OCONEE CULTURAL ARTS FOUNDATION (34 School St., Watkinsville) The annual "Members Exhibition" showcases works by artists who support the gallery as members. • "Figuratively Speaking" is a group exhibition stretching the limits of figurative work. Opening reception for both shows June 24, 5–7 p.m. Through July 23.
ODUM SCHOOL OF ECOLOGY GALLERY (140 E. Green St.) Natural science illustrator C Olivia Carlisle shares insect, botanical and ecosystems illustrations alongside "The Birdwing Butterflies of Papua New Guinea," a display featuring specimens assembled by James W. Porter and photographs by Carolyn Crist. Through fall.
STATE BOTANICAL GARDEN OF GEORGIA (2450 S. Milledge Ave) Cameron Berglund, a local artist and lecturer at UGA's College of Environmental Design, presents a collection of plein air watercolor sketches and landscape-inspired illustrations. Through June 26.
STEFFEN THOMAS MUSEUM OF ART (4200 Bethany Rd., Buckhead) "Mother Tongue: The Language of Families" includes Steffen Thomas' paintings, drawings and sculptures that were shaped by powerful prose and poetry. Spoken Word Night with Linqua Franqa, Christopher Martin and Josina Guess held Aug. 20, 4:30 p.m. Currently on view through Aug 20.
TINY ATH GALLERY (174 Cleveland Ave.) Rich Panico's exhibition, "Pandemic Art," is a collection of recent drawings and ceramic works. Open by appointment through June.
UGA SPECIAL COLLECTIONS LIBRARIES (300 S. Hull St.) "Frankie Welch's Americana: Fashion, Scarves and Politics" explores the life of a Georgia native who owned a Virginia boutique, designing scarves and dresses used in political campaigns and events and worn by women throughout the country in the 1960s and '70s. Through July 8. • "I AM A MAN: Photographs of the Civil Rights Movement, 1960–1970" documents a historic and transformative decade through iconic images of protestors and glimpses into the daily life of the American South. Film screening of King in the Wilderness held June 28. Through Aug. 11.
UNITARIAN UNIVERSALIST FELLOWSHIP OF ATHENS (780 Timothy Rd.) Rodney Graiger's exhibit "Black and White" includes large drawings on paper that portray recollections of private spaces where racial distinctions were often blurred but never fully erased. On view through July 28 on Sundays and by appointment.
VIVA! ARGENTINE CUISINE (247 Prince Ave.) Susan Pelham's collages are influenced by Magic Realism, Surrealism, fairy tales and nursery rhymes. Through August.
12WHITE TIGER GOURMET (217 Hiawassee Ave.) Artwork by Marisa Mustard. Through June.
Like what you just read? Support Flagpole by making a donation today. Every dollar you give helps fund our ongoing mission to provide Athens with quality, independent journalism.