ACC LIBRARY (2025 Baxter St.) On view in the Quiet Gallery, Elinor Saragoussi's "Moments of Reprieve" includes large-scale felt works and watercolor illustrations. Through Mar. 6.
ARTWALL@HOTEL INDIGO ATHENS (500 College Ave.) Curated by Lilly McEachern, "Crooked" features work by Andrae Green, Craig Coleman and Jess Machacek. Through Apr. 11.
THE ATHENAEUM (287 W. Broad St.) Stockholm-based artist Lisa Tan's video work, "Dodge and Burn 2017–2020 July 4," documents three consecutive failed attempts at filming fireworks on the 4th of July from the vantage point of a passenger on a commercial airliner destined for Los Angeles. Through Apr. 2.
ATHENS INSTITUTE FOR CONTEMPORARY ART: ATHICA (675 Pulaski St.) "Duo: Kelly Boehmer and Mark McLeod" combines the soft sculptures of Savannah-based artist Boehmer with the layered wood pieces of Murfreesboro-based artist McLeod. Closing reception Feb. 17 from 6–8 p.m.
ATHICA@CINÉ GALLERY (234 W. Hancock Ave.) Elizabeth Withstandley's installation "A Brief History of Happiness" is a 25 channel video composite of various musicians covering the song "Happiness" by Elliot Smith combined with audio excerpts from motivational speeches and conversations about happiness. Through Feb. 25.
AURUM STUDIOS (125 E. Clayton St.) The Athens Plein Air Painters present a collection of framed pastels inspired by nature.
CLASSIC CENTER (300 N. Thomas St.) "Hello, Welcome!" presents abstract worlds by Maggie Davis, Jonah Cordy, Carol MacAllister and Jason Matherly. • "Classic City" interprets the city of Athens, GA through the works of James Burns, Sydney Shores, Thompson Sewell and Allison Ward.
CREATURE COMFORTS BREWING CO. (271 W. Hancock Ave.) René Shoemaker presents "The Doors of Athens," a series of paintings on silk identifying local businesses by their main entrances. The exhibition is accompanied by a silk screened poster featuring 16 unique Athens businesses. Through Feb. 28.
DODD GALLERIES (270 River Rd.) ​​Lisa Tan's "My Pictures of You," compares the terrain of the American Southwest to that of Mars, raising questions about climate and extinction. • "Play Along" presents works by Dodd MFA candidates Shaunia Grant, Huey Hyuk Lee, Jason Rafferty and Ethan Snow that explore trauma, mortality and climate change through a tongue-in-cheek approach. • Ethan Snow presents "New Terrain," a photolithography installation interpreting how the natural world has been impacted by mass production and digitalization. • Showcasing student works, the "Undergraduate Juried Exhibition" was juried by Claire Dempster, interim director of arts publication Burnaway. All shows run through Feb. 24.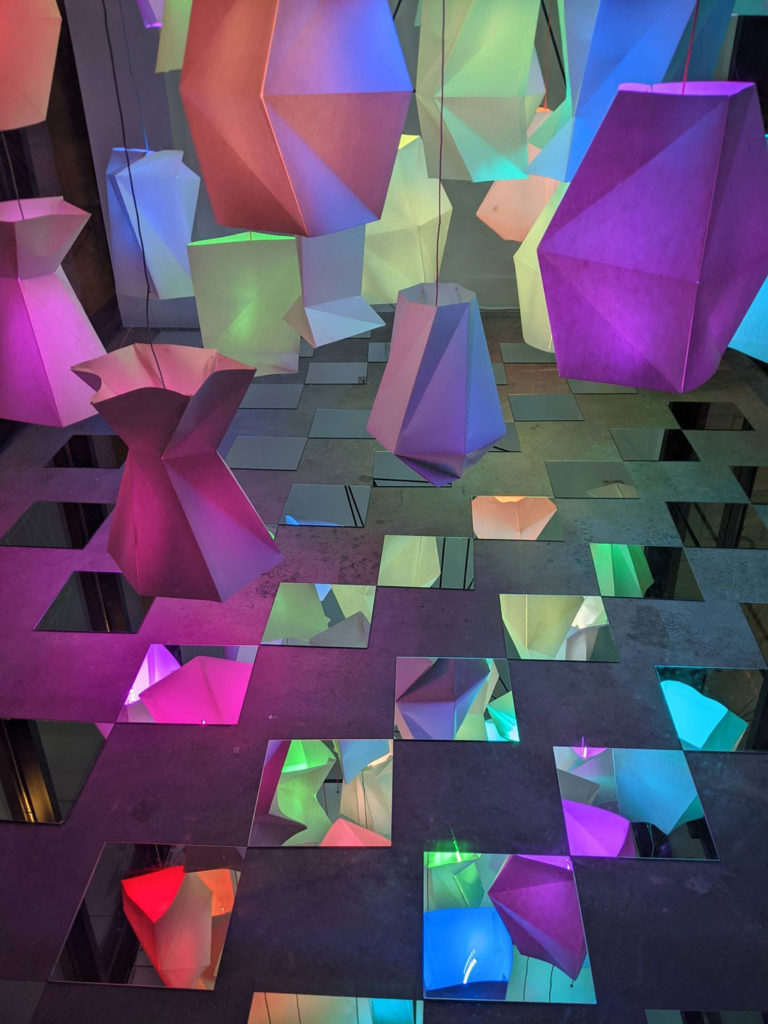 FLICKER THEATRE & BAR (263 W. Washington St.) Artwork by Kelly McGlaun Fields. Through February.
GEORGIA MUSEUM OF ART (90 Carlton St.) "In Dialogue: Views of Empire: Grand and Humble" displays two print collections that create a conversation about what it meant to be a working-class citizen in mid-19th-century Russia. Through Aug. 21. • "Jennifer Steinkamp: The Technologies of Nature." Through Aug. 21. • "Wealth and Beauty: Pier Francesco Foschi and Painting in Renaissance Florence." Through Apr. 24.
GLASSCUBE@INDIGO (500 College Ave.) Zane Cochran presents "Aurora," a sculptural interpretation of the aurora borealis using 3D geometric figures and lights.
HEIRLOOM CAFE (815 N. Chase St.) Susan Pelham's collages are influenced by magic realism, nursery rhymes, haiku, limericks and children's camp songs. Artist reception Feb. 15, 5:30–6:30 p.m. Currently on view through February.
LYNDON HOUSE ARTS CENTER (211 Hoyt St.) AJ Aremu presents a large-scale installation for "Window Works," a site-specific series that utilizes the building's front entrance windows for outdoor art viewing. • Curated by Maria Elias as part of the Guest BIPOC Curator program, "Dignos y sin Barreras" ("Dignified and without Barriers") explores identity, body issues and mental health through the works of Alondra Arévalo, Bianca Becerra, Jorge Rocha and Elias. Artist talk in Spanish on Feb. 17 at 6 p.m. Through Mar. 12. • "Be Careful What You Get Good At: Collages by Tommy Kay" shares works from an obituary collage project the artist began in the mid-'90s. Through Mar. 12. • In 1972, Gwendolyn Payton was denied a studio art degree from Mercer University after her works were deemed too controversial. "Excerpts from Faith of a Dreamer: Artworks by Gwendolyn Payton" shares some of those paintings as well as recent works. Through Mar. 12. • Collections from our Community presents Oliver Domingo's vinyl collection of instrumental library music from the '60s–'80s. Through Mar. 12.
MADISON-MORGAN CULTURAL CENTER (434 S. Main St., Madison) "Collector's Cabinet: Children's Tea Sets and Miniatures" displays pieces from around the world. Through Feb. 26.
OCONEE CULTURAL ARTS FOUNDATION (34 School St., Watkinsville) Juried by Atlanta gallery owner Marcia Wood, the 27th annual "SouthWorks Exhibition" is a nationally juried show featuring approximately 150 works ranging from sculpture, painting, photography, ceramics and more. • "Bright City: Textiles by Wini McQueen" includes artist books, photo fabric art collages and layered mixed media paintings. • "Women of Watercolor" features watercolor paintings by Pat Adams, Lori Hammer, Gail Karwoski, Diane Norman Powelson, Janet Rodekohr, Barbara Schell, and Mia York. Through Feb. 25.
TIF SIGFRIDS (393 N. Finley St.) Tif Sigfrids reopens in its new location with a solo show of works by Thomas Dozol. Opening reception Feb. 6, 1–5 p.m.
UGA SPECIAL COLLECTIONS LIBRARIES (300 S. Hull St.) The new Ted Turner Exhibition Hall and Gallery showcases CNN founder and environmentalist Ted Turner's life and legacy through memorabilia, photographs and other items. • "Not Only for Ourselves: The Integration of UGA Athletics" celebrates the 50th anniversary of integration of the Georgia Bulldogs football team. Through Spring 2022. • "At War With Nature: The Battle to Control Pests in Georgia's Fields, Forests and Front Yards" includes 3D models of insects alongside newspaper articles, government documents and photos to take viewers through the entomological and horticultural wars that Georgians have waged in their own yards, as well as the environmental, ecological and public health concerns related to pests and eradication efforts. Through May 27. • "Frankie Welch's Americana: Fashion, Scarves and Politics" explores the life of the designer and entrepreneur who, in addition to producing thousands of custom scarves, had many connections to presidential politics, Georgia and UGA. Gallery tours held Feb. 1, Mar. 1 & Apr. 5, 2 p.m. Family Day held Mar. 26, 1–4 p.m. Through July 8.
Like what you just read? Support Flagpole by making a donation today. Every dollar you give helps fund our ongoing mission to provide Athens with quality, independent journalism.