ACC LIBRARY (2025 Baxter St.) Lisa Freeman brings to light the mystery of the forgotten through "Furthermore," an exhibition of assemblage art constructed from found objects and photographs. Through Jan. 2.
ARTWALL@INDIGO (500 College Ave.) "All of Nothing" considers the intersection of natural and industrial beauty through the works of Alexa Rivera, Christina Matacotta and Zahria Cook.
THE ATHENAEUM (287 W. Broad St.) "Trevor Paglen: Vision After Seeing" explores the limits of human vision and the rise of automated vision technologies such as surveillance cameras and high powered telescopes. Through Dec. 1.
ATHENS INSTITUTE FOR CONTEMPORARY ART: ATHICA (675 Pulaski St.) "Exposure" features images by undergraduate and graduate students at the Lamar Dodd School of Art. On view Nov. 30–Dec. 5.
ATHICA@CINÉ GALLERY (234 W. Hancock Ave.) Floridian artist Eddie Lohmeyer's video art exhibition, "Entropic/Cinema: Selections for Eye Noise," is a series of experimental video works that explore the relationship among the entropy of digital media and the birth of novel and unexpected landscapes through modes of spiritual abstraction. Through Dec. 25.
BARBAR VINTAGE TEXTILES AND HOME (1354 S. Milledge Ave.) "Michael Ross: Gardens and Forests" features lush oil paintings of forests, fields, wetlands, birds and humans in relation to natural spaces. His subject matter results from his sense of wonder at the world, and evokes the meditative and healing qualities of nature. Through Dec. 11.
CIRCLE GALLERY AT THE UGA COLLEGE OF ENVIRONMENT AND DESIGN (285 S. Jackson St.) "Oh, The Places We'll Go!" features photographs by Brad Davis and David Nichols from their new book, Plants in Design, which depicts landscapes of the Southeast, the East and West Coasts of the U.S., and Europe. Through Dec. 17.
CLASSIC CENTER (300 N. Thomas St.) "Hello, Welcome!" presents abstract worlds by Maggie Davis, Jonah Cordy, Carol MacAllister and Jason Matherly. • "Classic City" interprets the city of Athens, GA through the works of James Burns, Sydney Shores, Thompson Sewell and Allison Ward.
COMMUNITY (260 N. Jackson St.) A collection of paintings by Andy Cherewick. Through December.
EARTH FARE (1689 S. Lumpkin St.) Painter, writer, cartoonist and musician Lance Ash shares a collection of recent acrylics works created in the artist's signature cartoon style of painting. Through November.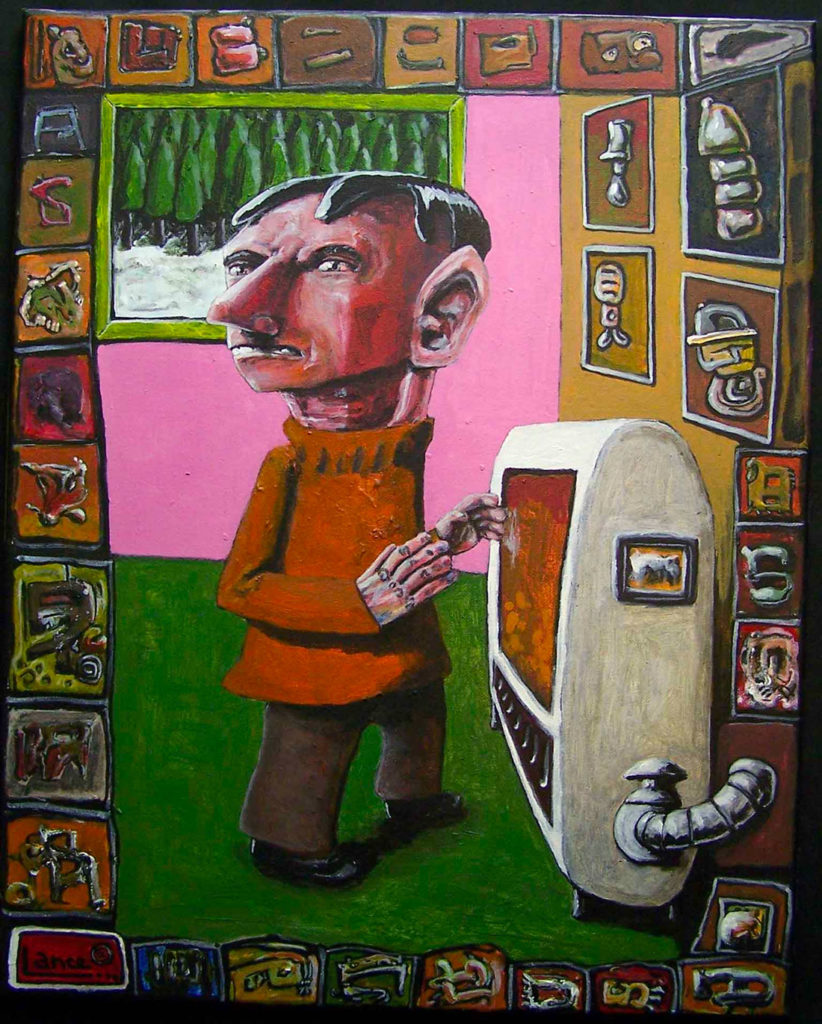 FLICKER THEATRE & BAR (263 W. Washington St.) Dark and imaginative pen-and-ink illustrations by James Greer that borrow inspiration from dreams and the subconscious mind. Through Nov. 27.
40 WATT CLUB (285 W. Washington St.) Juniors and seniors attending the Lamar Dodd School of Art at UGA present the exhibition "Carnival of Sorts." Dec. 1, 6–10 p.m.
GEORGIA MUSEUM OF ART (90 Carlton St.) "Power and Piety in 17th-Century Spanish Art." Through Nov. 28. • "In Dialogue: Artists, Mentors, Friends: Ronald Lockett and Thornton Dial Sr." focuses on one work by each artist to examine their friendship and compare their creative approaches. Through Nov. 28. • "Kota Ezawa: The Crime of Art" pays homage to the objects stolen during the Gardner Museum heist in 1990 through light boxes, color-blocked graphics and video animation. Through Dec. 5. • "Neo-Abstraction: Celebrating a Gift of Contemporary Art from John and Sara Shlesinger." Through Dec. 5. • "Whitman, Alabama" features 23 of 52 films from journalist, photographer and filmmaker Jennifer Crandall's ongoing documentary project of the same name. Through Dec. 12. • "Inside Look: Selected Acquisitions from the Georgia Museum of Art" features previously unseen works from the museum's collection of over 18,000 objects. Through Jan. 30. • "Collective Impressions: Modern Native American Printmakers." Through Jan. 30.
GLASSCUBE@INDIGO (500 College Ave.) Zane Cochran presents "Aurora," a sculptural interpretation of the aurora borealis using 3D geometric figures and lights.
HEIRLOOM CAFE (815 N. Chase St.) Multimedia artist Lois Songster renders plants and animals in combinations of gouache, color pencils, wood, watercolors, paper, pen and ink, digital art and more. Through Jan. 3.
HENDERSHOT'S COFFEE (237 Prince Ave.) Acrylics and found objects on canvas by Tom Hancock. Through November.
LYNDON HOUSE ARTS CENTER (211 Hoyt St.) AJ Aremu presents a large-scale installation for "Window Works," a site-specific series that utilizes the building's front entrance windows for outdoor art viewing. • Collections From Our Community presents Bil Raines' collection of antique toy pond boats. Through Jan. 16. • George Davison presents "Chants/Chance: Tincture, Totem & Charms," a collection of whimsical assemblages. Through Jan. 1. • "Figure Ground" explores positive space versus negative space, or figure versus ground, through the artworks of Kevin Cole, William Downs, Phil Jasen, Susan Nees, Terry Rowlett, Kate Windley and Sunkoo Yuh. Through Jan. 15. • Curated by Kendall Rogers, "Curation of Self Image" includes works by Parawita Stamm, Anjali Howlett, Lauren Schuster, Monsie Troncosco, Emmie Harvard and Alan Barrett. Through Jan. 15. • "Follow Like Friend" investigates issues surrounding social media through the works of Alyssa Davis, Kimberly Riner and Stephanie Sutton. Through Jan. 15.
MADISON ARTISTS GUILD (125 W. Jefferson St., Madison) Folk artist Peter Loose presents "When Birds Gather." Through Dec. 24.
MADISON-MORGAN CULTURAL CENTER (434 S. Main St., Madison) "MAG POPS!" is a group exhibition of artwork by members of the Madison Artists Guild. Through January.
MASON-SCHARFENSTEIN MUSEUM OF ART (567 Georgia St., Demorest) Jan Walker of The Children's Gallery in Cornelia presents a glittery, colorful holiday wonderland. Reception Dec. 2 from 4–6 p.m. Currently on view through Dec. 15.
OCONEE COUNTY LIBRARY (1080 Experiment Station Rd., Watkinsville) Artwork by Kate Windley, an assistant professor of art at the University of North Georgia. Through November.
TINY ATH GALLERY (174 Cleveland Ave.) "Sarah Flinn's exhibition, "A Toothy Grin," includes fantastical sculptures, paintings on wood and large-scale woven "poofs." Open by appointment through November.
UGA MAIN LIBRARY (320 S. Jackson St.) "Georgia Trailblazers: Honoring the 60th Anniversary of Desegregation at UGA" chronicles the historic events of 1961 when Hamilton Holmes and Charlene Hunter became the first African American students admitted to the university.
UGA SPECIAL COLLECTIONS LIBRARIES (300 S. Hull St.) The new Ted Turner Exhibition Hall and Gallery showcases CNN founder and environmentalist Ted Turner's life and legacy through memorabilia, photographs and other items. • "Drinkable Water in Georgia" is an interactive exhibit tracing the geographic, environmental and political factors that surround the natural resource and how those issues have impacted Georgians. Through December. • "Not Only for Ourselves: The Integration of UGA Athletics" celebrates the 50th anniversary of integration of the Georgia Bulldogs football team. Tours are offered at 3 p.m. on Fridays before each home football game. On view through Spring 2022. • "At War With Nature: The Battle to Control Pets in Georgia's Fields, Forests and Front Yards" includes 3D models of insects alongside newspaper articles, government documents and photos to take viewers through the entomological and horticultural wars that Georgians have waged in their own yards, as well as the environmental, ecological and public health concerns related to pests and eradication efforts. Through May 27.
WHEN IN ATHENS (Multiple Locations) Organized by The Humid with support from an Arts in Community Award from the Athens Cultural Affairs Commission, "When In Athens" is a city-wide public art exhibition of images by over 100 photographers made in every Athens. Photographs are installed in the windows of street-facing businesses. Participating locations include Creature Comforts, Georgia Theatre, The Grit, Hi-Lo Lounge, Trappeze Pub and many others. Visit thehumid.com for a full list of participating venues.
WOODHILL (4745 Bob Godfrey Rd.) A pop-up exhibition includes creative works by Dortha Jacobson, Greg Krakow, Leigh Ellis, Ansley Williams, Wini McQueen and Barbara Odil. Event held Nov. 27–28 & Dec. 4–5, 10 a.m.–5 p.m. Dec. 1, 12–6 p.m.
WILLSON CENTER FOR THE HUMANITIES AND ARTS (Online) As part of UGA's Spotlight on the Arts, the Willson Center presents "Shelter Projects," a virtual exhibition of over 30 projects created by graduate students or community practitioners who reflect pandemic experiences through the arts. Visit willson.uga.edu.
WINTERVILLE COMMUNITY CENTER (371 N. Church St., Winterville) The "Student Art Exhibit" features works by current art students at the Winterville Center. Through December.
Like what you just read? Support Flagpole by making a donation today. Every dollar you give helps fund our ongoing mission to provide Athens with quality, independent journalism.