ACC LIBRARY (2025 Baxter St.) Local artist Matt Brewster presents "Radiance," a collection of landscape, interior and aerial/drone photographs. Through October.
THE ATHENAEUM (287 W. Broad St.) "Trevor Paglen: Vision After Seeing" explores the limits of human vision and the rise of automated vision technologies such as surveillance cameras and high powered telescopes. Opening reception Sept. 9, 6–9 p.m. Through Dec. 1.
ATHENS INSTITUTE FOR CONTEMPORARY ART: ATHICA (675 Pulaski St., Suite 1200) Juried by Matt Porter, curator at the Morris Museum of Art in Augusta, "Light: 2021 Juried Exhibition" presents contemporary art in all media that explores or references light. Through Oct. 3.
ATHICA@CINÉ GALLERY (234 W. Hancock Ave.) ATHICA celebrates the life of local artist Chatham Murray through an exhibition of her paintings. Through Oct. 25.
DODD GALLERIES (270 River Rd.) "Time at the Table" is a collaborative exhibition of performance, installation, ceramics and photographs created by Dodd undergraduate Alan Barret and Athens-based artists Massie Herlihy and Alex Barret. • Temporary Investments, the collaborative duo of MFA candidate Rachel Seburn and Canadian artist Sarah Seburn, presents "Flex-i-ble Architecture." • MFA candidate Mickey Boyd and Albuquerque-based artist Max Yardbird present "Waste Creation," a series of images and sculptures that explore how exponential growth equals exponential waste. • Dawn William Boyd's "Woe" features large-scale cloth paintings critiquing social injustice, racial violence and other abuses of power. • The Wall Works series presents a new large-scale mural by Atlanta-based artist Stacie Rose. Through Oct. 2.
FLICKER THEATRE & BAR (263 W. Washington St.) Musician and artist Emileigh Ireland presents "Prismatic Ambiguity." Through September.
GALLERY@INDIGO (500 College Ave.) Rebecca Kreisler presents a collection of nine works that investigate geometry, pattern and color.
GEORGIA MUSEUM OF ART (90 Carlton St.) "Contemporary Japanese Ceramics from the Horvitz Collection" represents three generations of artists dating from the 1940s. Through Sept. 26. • "Modernism Foretold: The Nadler Collection of Late Antique Art from Egypt." Through Sept. 26. • "Power and Piety in 17th-Century Spanish Art." Through Nov. 28. • "In Dialogue: Artists, Mentors, Friends: Ronald Lockett and Thornton Dial Sr." focuses on one work by each artist to examine their friendship and compare their creative approaches. Through Nov. 28. • "Kota Ezawa: The Crime of Art" pays homage to the objects stolen during the Gardner Museum heist in 1990 through light boxes, color-blocked graphics and video animation. Through Dec. 5. • "Neo-Abstraction: Celebrating a Gift of Contemporary Art from John and Sara Shlesinger." Through Dec. 5. • "Whitman, Alabama" features 23 of 52 films from journalist, photographer and filmmaker Jennifer Crandall's ongoing documentary project of the same name. Through Dec. 12.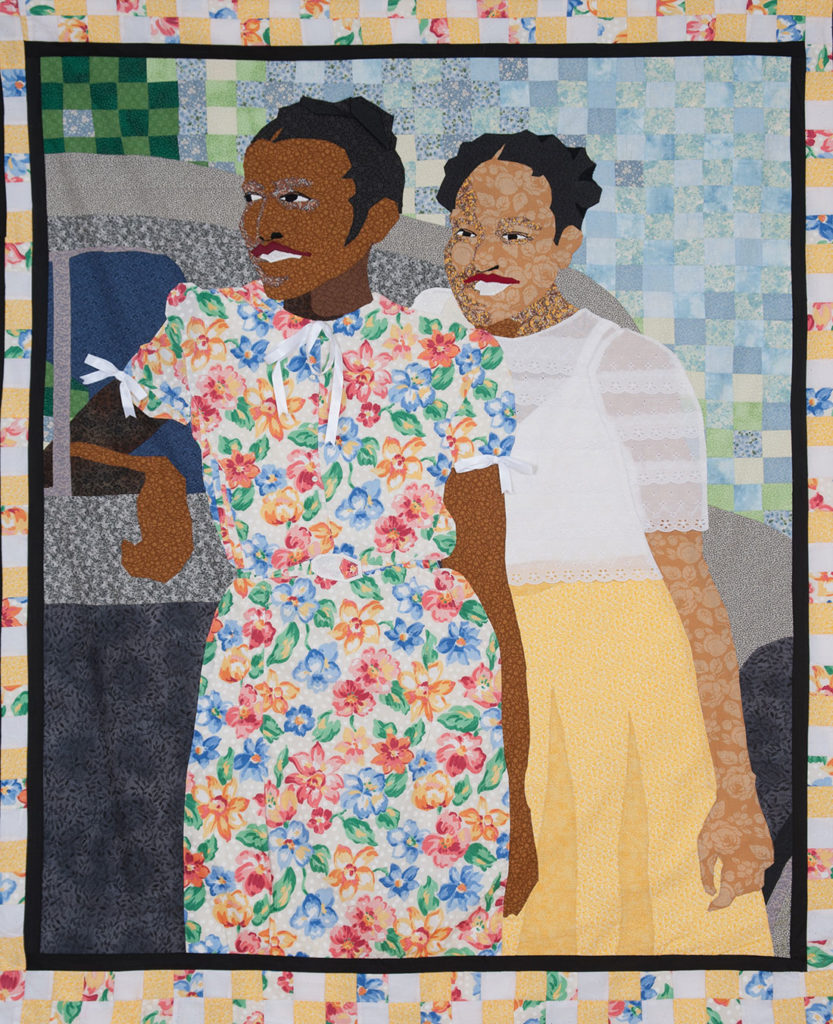 GLASSCUBE@INDIGO (500 College Ave.) Zane Cochran presents "Aurora," a sculptural interpretation of the aurora borealis using 3D geometric figures and lights.
HEIRLOOM CAFE (815 N. Chase St.) Amanda Corbett of Salvage Sparrow Photo presents a collection of tintypes, a 1850s technique called wet plate collodion. On view through Nov. 1.
JITTERY JOE'S EASTSIDE (1860 S. Barnett Shoals Rd.) Susan Pelham's handmade collages are inspired by Magic Realism, fairy tales, Surrealism and fables. Through September.
LYNDON HOUSE ARTS CENTER (211 Hoyt St.) AJ Aremu presents a large-scale installation for "Window Works," a site-specific series that utilizes the building's front entrance windows for outdoor art viewing. • "Collections from our Community: Oscar's Godzillas" shares Godzilla memorabilia collected by Oscar Justus. Through Sept. 18. • "Inside Out: Expressing the Inner World" presents abstract paintings by a group of women artists working in the Southeast. Through Oct. 23. • "Something I've Been Meaning to Tell You" presents works by Brian Hitselberger and Julie Willis. Through Oct. 16. • "Modernist Sculptures from the Legacy of Loyd Florence." Through Oct. 23. • "i vs me" features paintings by Andy Cherewick and Jeffrey Whittle. Artist talk Sept. 16 at 6 p.m. On view through Oct. 15. • "A Lot More Than It Seems: David Froetschel" spotlights the recipient of an Arts Center Choice Award at the most recent Juried Exhibition. Through Oct. 15. • Guest curated by Abraham Tesser, "Willow Oak Tree Exhibit" features works created by local artists using the reclaimed wood of a willow oak tree that lived on the lawn of the historic Ware-Lyndon House for over a century. Gallery talk with Duane Paxson, Jim Talley and Tom Wenzka on Sept. 9 at 6 p.m. Through Nov. 18.
OCONEE CULTURAL ARTS FOUNDATION (34 School St., Watkinsville) "Perspectives: Georgia Pottery Invitational" presents over 4000 pieces of handmade pottery by 50 top artists from across the state. "Aurora's Flora and Fauna" is a solo show of works by Aurora Alva. Through Sept. 12.
STATE BOTANICAL GARDEN OF GEORGIA (2450 S. Milledge Ave.) In the Athens Art Association's exhibition, "New Art for a New Century," 26 artists present watercolor, acrylic, color pencil, multimedia and fused glassworks. Through Oct. 16. • Judy Bolton Jarrett presents "Art and Attitude," a collection of landscape and botanical paintings. Closing reception Oct. 17 from 2–4 p.m.
TINY ATH GALLERY (174 Cleveland Ave.) Davy Gibbs' photographic series, "Empires," bears witness to reveal the inherent dignity of small towns in the Deep South, who experience both glory and decay, rise and fall, like most empires. Opening reception Sept. 12 from 2–5 p.m. Open for Third Thursday on Sept. 16 from 6–9 p.m. Open by appointment through September.
UGA MAIN LIBRARY (320 S. Jackson St.) "Georgia Trailblazers: Honoring the 60th Anniversary of Desegregation at UGA" chronicles the historic events of 1961 when Hamilton Holmes and Charlene Hunter became the first African American students admitted to the university.
UGA SPECIAL COLLECTIONS LIBRARIES (300 S. Hull St.) The new Ted Turner Exhibition Hall and Gallery showcases CNN founder and environmentalist Ted Turner's life and legacy through memorabilia, photographs and other items. • "Drinkable Water in Georgia" is an interactive exhibit tracing the geographic, environmental and political factors that surround the natural resource and how those issues have impacted Georgians. Through December. • "Lines with Power and Purpose: Editorial Cartoons" displays 51 original editorial cartoons from the nation's metropolitan newspapers during the Golden Age of print journalism. Virtual tour held via Facebook Live on Sept. 23 at 2 p.m. Conversation with Mike Luckovich held Sept. 28. Currently on view through Oct. 5.
WHEN IN ATHENS (Multiple Locations) Organized by The Humid with support from an Arts in Community Award from the Athens Cultural Affairs Commission, "When In Athens" is a city-wide public art exhibition of images by over 100 photographers made in every Athens. Photographs are installed in the windows of street-facing businesses. Participating locations include Creature Comforts, Georgia Theatre, The Grit, Hi-Lo Lounge, Trappeze Pub and many others. Visit thehumid.com for a full list of participating venues. 
WILLSON CENTER FOR THE HUMANITIES AND ARTS (Online) As part of UGA's Spotlight on the Arts, the Willson Center presents "Shelter Projects," a virtual exhibition of over 30 projects created by graduate students or community practitioners who reflect pandemic experiences through the arts. Visit willson.uga.edu.
Like what you just read? Support Flagpole by making a donation today. Every dollar you give helps fund our ongoing mission to provide Athens with quality, independent journalism.