ACC LIBRARY (2025 Baxter St.) On view in the Quiet Gallery, "My Aging Face: A Conversation on Aging, Beauty and Refining Norms for Women Over 40" features photos of women who posted close-ups of their faces on Instagram along with short descriptions of what they saw and how they felt.
ATHENS INSTITUTE FOR CONTEMPORARY ART: ATHICA (675 Pulaski St., Suite 1200) The Artist-in-ATHICA residency series presents Gabrielle Sinclair. Through June 26. • "Postcards from the Future" is an online exhibition and fundraiser of postcards designed by emerging artists. Visit athica.org.
ATHICA@CINÉ GALLERY (234 W. Hancock Ave.) Photographer Cindy Karp presents "Pandemic Portraits." Through June 25.
CREATURE COMFORTS BREWING CO. (271 W. Hancock Ave.) "Respite" presents abstract paintings by Abby Kacen, a cartoonist, illustrator, muralist, chalk artist and founder of Keep It Weird Art Collective. Currently on view through June 20.
EARTH FARE (1689 S. Lumpkin St.) Tom Hancock presents a collection of mixed media acrylic paintings that incorporate found objects. Through July 1.
FLICKER THEATRE & BAR (263 W. Washington St.) Artwork by Lisa Lecorchik. Through June.
GALLERY AT HOTEL INDIGO (500 College Ave.) "Athens Facades" presents Mike Landers' photographs of buildings downtown and in Five Points at dark between 2000–2002.
GEORGIA MUSEUM OF ART (90 Carlton St.) "Extra Ordinary: Magic, Mystery and Imagination in American Realism." Through June 13. • "Contemporary Japanese Ceramics from the Horvitz Collection" represents three generations of artists dating from the 1940s. Through Sept. 26. • "Modernism Foretold: The Nadler Collection of Late Antique Art from Egypt." Through Sept. 26. • "Power and Piety in 17th-Century Spanish Art." Through Nov. 28. • "Whitman, Alabama" features 23 of 52 films from journalist, photographer and filmmaker Jennifer Crandall's ongoing documentary project of the same name. Through Dec. 12. • "Rediscovering the Art of Victoria Hutson Huntley" shares approximately 30 lithographs inspired by landscape, human figures and the natural world. Through Aug. 15. • "Echoes from Abroad: American Art from the Collection of Barbara Guillaume." Through Aug. 15. • "Hands and Earth: Perspectives on Japanese Contemporary Ceramics" includes works by some of 20th- and 21st-century Japan's most important artists. Through Aug. 15. • "In Dialogue: Artists, Mentors, Friends: Ronald Lockett and Thornton Dial Sr." focuses on one work by each artist to examine their friendship and compare their creative approaches. Through Nov. 28.
GLASSCUBE@INDIGO (500 College Ave.) A recipient of an Arts in Community Resilience Award from the Athens Cultural Affairs Commission, local fashion designer Tabitha Fielteau presents "Nouveau Bridal," a collection of handmade dresses. Through June.
HEIRLOOM CAFE (815 N. Chase St.) "Summer Dream" features paintings by Susie Burch. Through Aug. 23.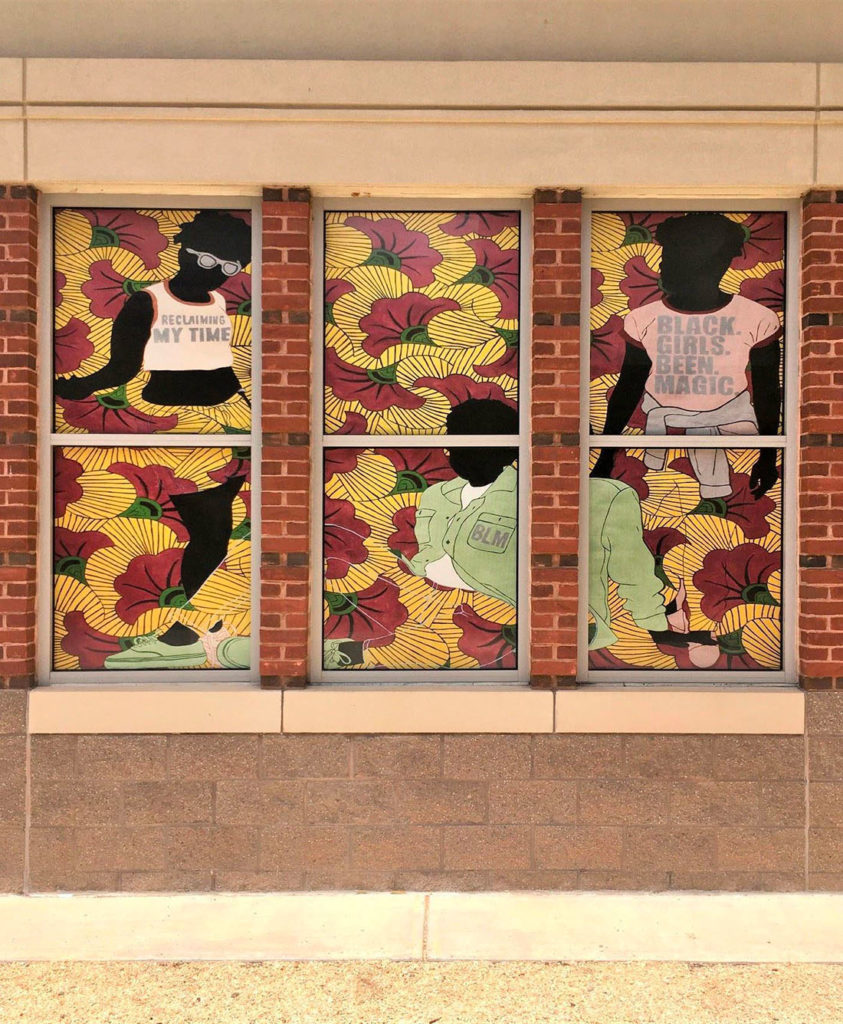 LYNDON HOUSE ARTS CENTER (211 Hoyt St.) The 46th annual Juried Exhibition features 161 works by 116 local artists selected by juror Hallie Ringle of the Birmingham Museum of Art. Through June 26. • On view in the lobby case, Jourdon Joly presents a collection of cast resin ice cream cones. Through June 26. • Collections from our Community presents Arthur Johnson's (of the Bar-B-Q Killers) shark collection, which he has been building since the early '80s. Through June 26. • Curated by La Ruchala Murphy and featuring the works of Black artists living in the South, "#NotAStereotype" challenges the labels and limitations perceived about race, nationality, gender, ability and sexual orientation. Virtual Artist Talk featuring Jewel Edwards, Masud Olufani, Noraa James, Jerrold Mobley and Erica Angelica on June 8. Through June 24. • Will Eskridge's "Endless Party: A Collection of Party Animals" offers a celebratory look at outcast animals like bats, snakes and raccoons. The show includes to-go maps for a scavenger hunt at Bear Hollow Zoo and Memorial Park. Through July 24. • AJ Aremu presents a large-scale installation for "Window Works," a site-specific series that utilizes the building's front entrance windows for outdoor art viewing.
MADISON-MORGAN CULTURAL CENTER (434 S. Main St., Madison) "The 125th Anniversary Exhibition: Celebrating the Home of the Madison-Morgan Cultural Center" explores the Romanesque Revival building that was built as a graded schoolhouse in 1895 and became a regional cultural center in 1976. Through June.
MASON-SCHARFENSTEIN MUSEUM OF ART (567 Georgia Street, Demorest) "Michael Ross: Foothills" features lush depictions of forests, fields, wetlands, birds and people. Artist talk June 11 at 11 a.m. Part of the North Georgia Arts Tour June 11–13. Closing reception Aug. 19 from 5–7 p.m.
STATE BOTANICAL GARDEN OF GEORGIA (2450 S. Milledge Ave.) "Art From the Garden" shares acrylic, oil, watercolor, graphite, color pencil and pastel works created on-site at the garden by the Athens Area Plein Air Painters. Through July 16. • Dortha Jacobson shares a collection of 25 paintings, many of which are scenes from the garden or were created with the local Athens Plein Air Painters. Through June 20.
STEFFEN THOMAS MUSEUM OF ART (4200 Bethany Rd., Buckhead) "Healing Our Humanity: Finding Hope, Love and Unity" presents works by Margaret C. Brown, Zerric Clinton, Oliver Enwonwu, Andrae Green and Nnamdi Okonkwo. Through July 10.
UGA OFFICE OF SUSTAINABILITY (Online) The annual Earth Day Art Challenge is a virtual exhibition of artwork, performance, video and writing that demonstrates an appreciation, awareness or action. Visit sustainability.uga.edu.
UGA SCHOOL OF LAW (225 Herty Dr.) Williams Elliot Stiles Jr., an accomplished artist, Atlanta attorney and UGA School of Law alumnus, recently unveiled a new commission, "1961," to commemorate the 60th anniversary of desegregation at UGA.
UGA MAIN LIBRARY (320 S. Jackson St.) "Georgia Trailblazers: Honoring the 60th Anniversary of Desegregation at UGA" chronicles the historic events of 1961 when Hamilton Holmes and Charlene Hunter became the first African American students admitted to the university.
UGA SPECIAL COLLECTIONS LIBRARIES (300 S. Hull St.) "Making Space: Fighting for Inclusion, Building Community at UGA" chronicles the journey of students advocating for racial and social justice on campus. Through July 2. • "The Hargrett Hours: Exploring Medieval Manuscripts" presents original items from the collections, dating back centuries, as well as findings from students' in-depth studies. Through Aug. 26. • The new Ted Turner Exhibition Hall and Gallery showcases CNN founder and environmentalist Ted Turner's life and legacy through memorabilia, photographs and other items. • "New Again: Selections from the Rare Book Vault" includes examples of handmade tomes dating back centuries, as well as contemporary books that combine centuries-old techniques with a modern aesthetic. Through Aug. 27.
WEAR ORANGE COMMUNITY MURAL DISPLAYS (Multiple Locations) Wear Orange honors the lives of those affected by gun violence and elevate gun violence prevention efforts nationwide. Participants include Treehouse Kid & Craft, Town & Gown Players, Athens Anti-Discrimination Movement (painted by the teen social justice club), Athens-Clarke County Library (painted by Athens Moms Demand Action) and Ciné (painted by Project Safe). On view beginning June 5.
WILLSON CENTER FOR THE HUMANITIES AND ARTS (Online) As part of UGA's Spotlight on the Arts, the Willson Center presents "Shelter Projects," a virtual exhibition of over 30 projects created by graduate students or community practitioners who reflect pandemic experiences through the arts. willson.uga.edu.
Like what you just read? Support Flagpole by making a donation today. Every dollar you give helps fund our ongoing mission to provide Athens with quality, independent journalism.