ATHENS INSTITUTE FOR CONTEMPORARY ART (ATHICA) (675 Pulaski St., Suite 1200) Curated by Alex Christopher Williams of Minor League, "The Unseen Forest" features photographs by Southern photographers Nydia Blas, Jaclyn Kolev Brown and Aaron Hardin. Through Dec. 6. • "Hindsight 20/20: A Community catharsis" is a collaborative exhibition in which members of the community can share artifacts, meditations, artwork or other personal expressions. Bring items during Pin-Up Events on Dec. 10, 5–7 p.m. or Dec. 17, 6–9 p.m. Streaming event for "Local Honey" zine on Jan. 3 at 7 p.m. Streaming musical event on Jan. 7 at 7 p.m. Collect your items on Jan. 9, 7–9 p.m. On view Dec. 10–Jan. 9.
CLASSIC CENTER (300 N. Thomas St.) The Classic Galleries presents "Inside/Outside," an exploration of domestic spaces and gardens through the eyes of artists. Christina Foard, Leah Mckillop and Cameron Bliss examine their surroundings, people, pets and furniture in Gallery I, while Richard Botters, Melanie Epting, Nancy Everett, Richard Huston and Beth Richardson invite viewers into their gardens in Gallery II.
GALLERY AT HOTEL INDIGO (500 College Ave.) "Athens Facades" presents Mike Landers' photographs of buildings at dark in downtown and Five Points between 2000–2002.
GEORGIA MUSEUM OF ART (90 Carlton St.) "The Art of Seating: 200 Years of American Design" presents a survey of exceptional American chair design from the early 19th century to the present day. Through Jan. 3. • "The Seated Child: Early Children's Chairs from Georgia Collections." Through Jan. 3. • "Carl Holty: Romantic Modernist" includes paintings and drawings that reflect the artist's pursuit of modern art theory. Through Jan. 17. • Sarah Cameron Sunde's "36.5 / A Durational Performance with the Sea" combines performance, video and public art to address climate change. Through Jan. 17. • "Contemporary Japanese Ceramics from the Horvitz Collection" represents three generations of artists dating from the 1940s. Through Sept. 26. • "Modernism Foretold: The Nadler Collection of Late Antique Art from Egypt." Through Sept. 26. • "Power and Piety in 17th-Century Spanish Art." Through Nov. 28.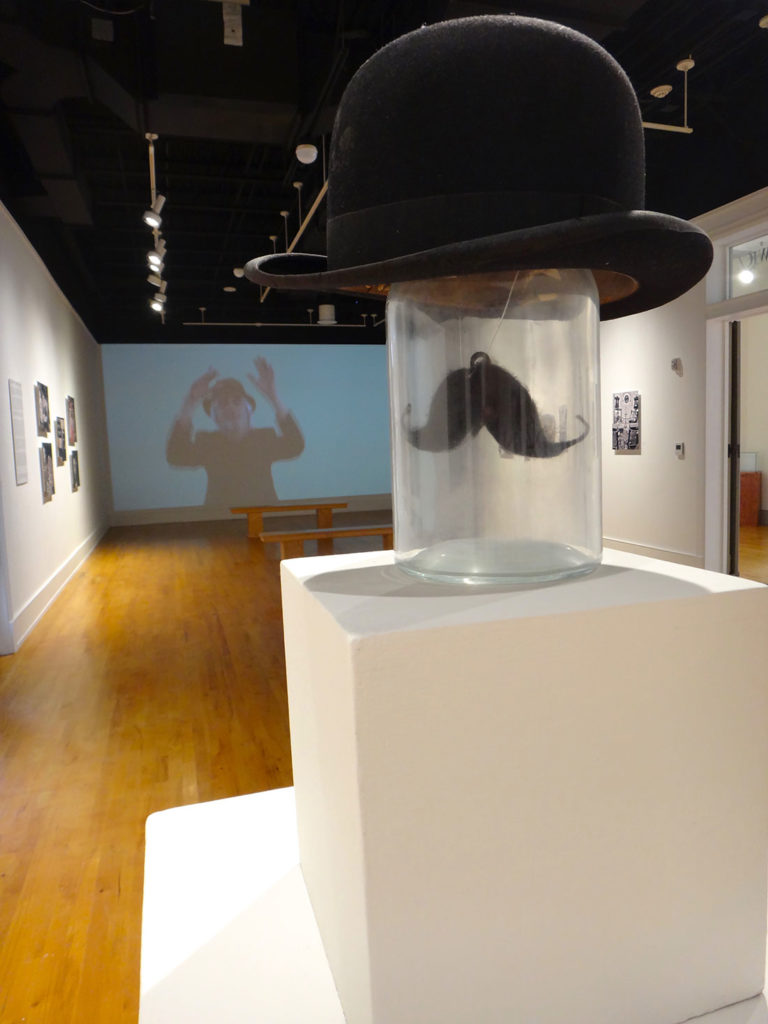 LYNDON HOUSE ARTS CENTER (211 Hoyt St.) Andrew Zawacki's "Waterfall Plot" pairs 20 black-and-white photographs with short poems from his latest poetry volume. • In the Lounge Gallery, view paintings by Kendall Rogers, the recipient of the LHAC Choice Award at the "45th Juried Exhibition." • "Boundless" features works by Don Chambers, Derek Faust, Alex McClay, Katherine McCullough and Paula Reynaldi. • "The Art of Jeremy Ayers" celebrates the artist, lyricist, activist and beloved member of the community, who passed away in 2016. • Organized by Christina Foard, "Imagination Squared: Pathways to Resiliency" consists of over 1000 five-inch works created by students and community members. Sharing a theme of resiliency, the small works build a collective story of recovery and strength. • The "Full House Online Exhibition" is an invitational extended to all the artist members in the groups and guilds who call the LHAC home. Through Jan. 9. • Online Collections From Our Community presents Claire Dunphy's Czechoslovakian wooden bead jewelry that dates from the Depression era.
MADISON-MORGAN CULTURAL CENTER (434 S. Main St.) "Suttles Art" features 88 original pieces ranging from paintings, oils and pastels by Bill Suttles, photography by Todd Suttles and sculpture by Pat Suttles. Through December.
STEFFEN THOMAS MUSEUM OF ART (4200 Bethany Rd., Buckhead) "Unveiled" presents rarely seen works on paper, canvas and found objects by Steffen Thomas. Through Jan. 7.
SURGERY CENTER OF ATHENS (2142 W. Broad St., Building 100) Paintings by Susie Criswell. Through Dec. 11.
TIF SIGFRIDS (83 E. North Ave., Comer) The gallery reopens in its new location with artwork by Adrianne Rubenstein and Jackie Gendel. Through Dec. 19.
TINY ATH GALLERY (174 Cleveland Ave.) Jamie Calkin presents watercolor and ink paintings of local scenes in "Athens in Silks." Open through Nov. 25 by private appointment at tinyathgallery@gmail.com.
UGA SPECIAL COLLECTIONS LIBRARIES (300 S. Hull St.) "The Strategies of Suffrage: Mobilizing a Nation for Women's Rights." Through Dec. 18. • "Pylon: Tourists in Rock 'n Roll" celebrates the local band through photos, outfits, memorabilia and more. Through May 31. • "Election 1980: The Elephant in the Room" explores the historic change election. Through Feb. 26.
WILLSON CENTER FOR THE HUMANITIES AND ARTS (Online) As part of UGA's Spotlight on the Arts, the Willson Center presents "Shelter Projects," a virtual exhibition of over 30 projects created by graduate students or community practitioners who reflect pandemic experiences through the arts. willson.uga.edu.
Like what you just read? Support Flagpole by making a donation today. Every dollar you give helps fund our ongoing mission to provide Athens with quality, independent journalism.