AMICI (233 E. Clayton St.) Jennifer Wallens Terry is a medium, pet psychic and spiritual coach. Her abstract paintings focus on texture and color, while others feature celestial and symbolic imagery. Through July.
CITY OF WATKINSVILLE (Downtown Watkinsville) "Public Art Watkinsville: A Pop-Up Sculpture Exhibit" consists of sculptures placed in prominent locations around downtown. Artists include Benjamin Lock, William Massey, Stan Mullins, Robert Clements, Harold Rittenberry and Joni Younkins-Herzog. • "Artscape Oconee: The Monuments of Artland" features a total of 20 paintings on panels installed around town. Artists include Claire Clements, Peter Loose, Andy Cherewick, Lisa Freeman, Manda McKay and others.
EARTH FARE (1689 S. Lumpkin St.) Tom Hancock creates abstract paintings that incorporate mixed media and found objects. Through August.
GEORGIA MUSEUM OF ART (90 Carlton St.) "Louis Comfort Tiffany: Treasures from the Driehaus Collection" features over 60 objects spanning over 30 years of the famous stained-glass artist's career. • "Master of Fine Arts Degree Candidates Exhibition" is an annual exit show for the graduating master of fine arts students at the Lamar Dodd School of Art. • "Rediscovering the Art of Victoria Hutson Huntley" contains approximately 30 lithographs and two paintings. • "Drama and Devotion in Baroque Rome" celebrates Michelangelo Merisi da Caravaggio's influence. Through Aug. 23. • "Altered Landscapes: Photography in the Anthropocene" includes images that demonstrate humanity's impact on the natural world. Through Sept. 27. • "Recognizing Artist Soldiers in the Permanent Collection" includes artists who served in conflicts from the Revolutionary War through World War II, as well as those who served in the 1950s. Though the museum is temporarily closed, many of the exhibitions, as well as the permanent collection, are currently available to view online at georgiamuseum.org.
GLASSCUBE@INDIGO (500 College Ave.) "Supple Moments, Dark Corners" is a site-specific installation by Eli Saragoussi that is accompanied by a soundscape by Max Boyd called "Jungle Drone." Saragoussi recently incorporated additional set pieces built for Ad•Verse festival.
JITTERY JOE'S DOWNTOWN (297 E. Broad St.) Susan Pelham's collages are influenced by Magic Realism, Surrealism, fables and folklore. Through August.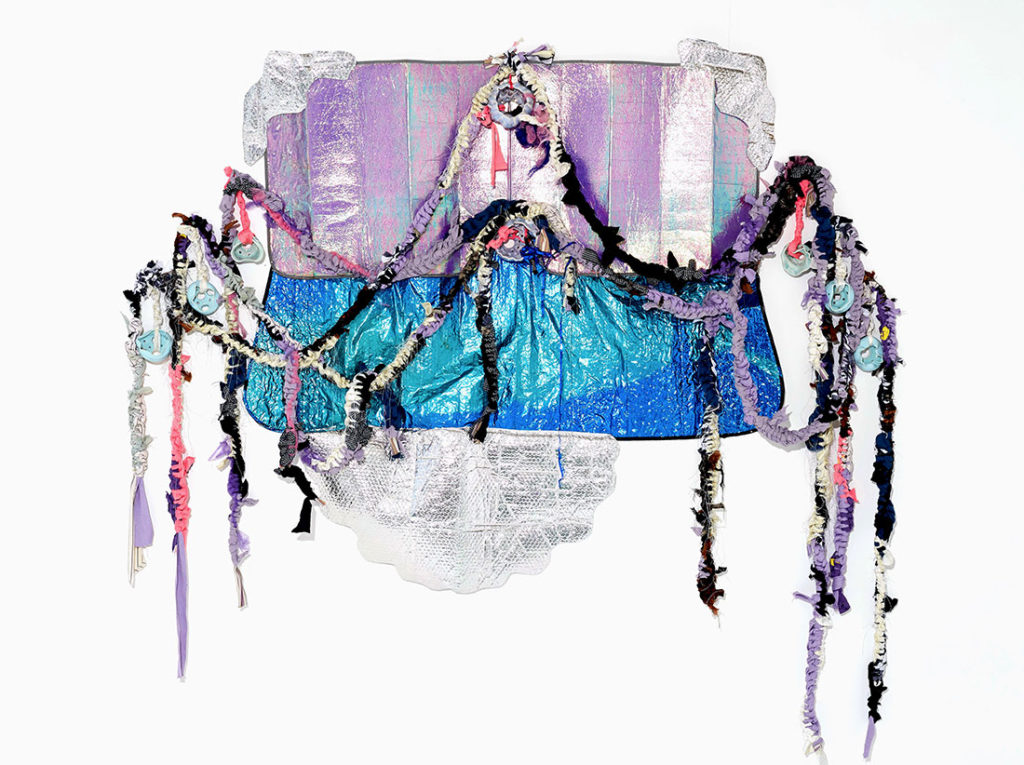 LAMAR DODD SCHOOL OF ART (270 River Rd.) "Amiko Li: The Purpose of Disease" presents the explorations of the Dodd MFA Fellow in photography into acupuncture, palm reading, psychogenics, herbal supplements, antibiotics and the regeneration of limbs. • "KITCHEN" is a new animation by New York-based artist and former Athenian Michael Siporin Levine, inspired by his quarantine experience. • In "Mors Scena," photographer Rachel Cox documents the viewing rooms and visitation spaces of funeral homes, drawing attention to how we mourn and memorialize the dead in America. • Atlanta-based artist Michi Meko's 2017 installation, "One Last Smile Before the Undertow," is a suite of works addressing black life in America post-Obama. • "Silver_Page_Radio_Light" is a collaboration between Austin-based photographer Barry Stone and New York-based photographer Lucy Helton, who faxed each other an image each day for a portion of quarantine. • In "Optical Illusion," Zipporah Camille Thompson juxtaposes organic and inorganic materials. Exhibitions are available online at art.uga.edu.
LYNDON HOUSE ARTS CENTER (293 Hoyt St.) The "45th Juried Exhibition" presents 199 works by 144 local artists. Through July. • On view in the Lounge Gallery, see a collection of paintings by Lee Coffey. Through Aug. 1. • "Collections from our Community" presents the peels of bananas that were eaten by Hue Henry and photographed as a still life by Carole Henry. Through Sept. 1. • In the Lobby Case, view a collection of charming ceramic house sculptures by Frank Jackson. Through Sept. 1. • The Lyndon House is currently open to the public, with precautions in place. Daily installments of artwork and activities are also available on Instagram and Facebook, using the hashtags #45JuriedShowOnline and #ArtsCenterOnline.
MADISON-MORGAN CULTURAL CENTER (434 S. Main St., Madison) "Lambs to Lillies" is an online exhibition featuring impressionistic oil paintings by Cynthia Perryman. Through Sept. 11 at mmcc-arts.org.
OCONEE CULTURAL ARTS FOUNDATION (34 School St., Watkinsville) The Annual Members' Exhibition presents works by the gallery's member artists. Louisiana Tech University School of Design professor Frank Hamrick's handmade artist's book, "It was there all along," is presented as an online exhibition of wet plate collodion tintypes addressing water-related issues. Both shows are available online at ocaf.com through Aug. 1.
UGA OFFICE OF SUSTAINABILITY (1180 E. Broad St.) "The Earth Day (Art) Challenge" is a virtual exhibition of works commemorating the 50th anniversary of Earth Day. Visit sustainability.uga.edu/earthday-art-challenge-exhibit.
UGA SPECIAL COLLECTIONS LIBRARIES (300 S. Hull St.) Online exhibitions include "Steele Vintage Broadcast Microphone Collection," "Foxfire on Display at UGA: 50 Years of Cultural Journalism Documenting Folk Life in the North Georgia Mountains, September–December 2016," "Covered With Glory: Football at UGA, 1892–1917" and "Fighting Spirit: Wally Butts and UGA Football, 1939–1950." Visit digilab.libs.uga.edu/scl/exhibits.
Like what you just read? Support Flagpole by making a donation today. Every dollar you give helps fund our ongoing mission to provide Athens with quality, independent journalism.