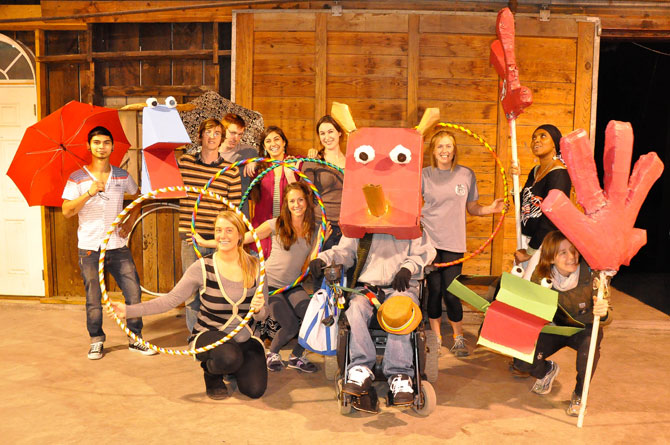 There is a growing number of circus folk in town. Over the past few months, local musician and performance artist Ben Austin has molded a menagerie of flame-throwers, mimes and acrobats into Circus Athena, a genuinely homegrown vaudeville show. As director and producer, Austin is responsible for gathering over 60 performers and crew members for rehearsals, costume and prop design, and performance. With a background in community theater, mime and clowning, Austin provides the organizational and inspirational backing for a troupe of alternative performance artists to coalesce and, hopefully, thrive.
The American circus, once an enormously popular form of entertainment, has awaited a true revitalization for decades. During its heyday, the spectacle of pratfalling clowns, exotic animal tamers and scantily clad acrobats brought people together from all walks of life. But since the mid-20th century, the circus has gradually fallen out of favor. In recent years, though, there has been something of a resurgence of the circus arts, famously including Cirque du Soleil, which has, as Austin says, "refined circus organization, consolidating acts on a technical and narrative level.†Noticing an increased interest in both traditional and nontraditional circus arts in Athens, Austin has consolidated fellow performers and troupes into Circus Athena.
There is a larger trend at work here, in Athens particularly, of returning to anachronistic art forms, not on a nostalgic note per se, but as an act of discovery. The idea for Circus Athena began, Austin says, with "an abandoned accordion†and a vision of Athens as a Mecca for not only artistic and musical endeavors, but specifically circus and performance art. After Austin taught himself to play the accordian, he joined up with the Classic City, Double Barrel, Royal Sequined Aerial Circus at Canopy Studio. He says the experience inspired him to organize a vaudeville show to showcase circus arts for the larger community.
The acts in Circus Athena will involve both professional and amateur performing artists. Dane Beardsley will perform gravity-defying stunts with BMX bikes. In true circus tradition, there will be animal acts, featuring Gail Mirabella and the Dynamo Disc Dogs. Some of the amateur acts—and by amateur, I mean rather impressive—include traditional clowning, juggling on unicycles and flame-throwers from the Pyrokinetics group. Dancers and aerial artists from Canopy, Sulukule Bellydance and Athens Vertical Pole Dance Academy will perform spellbinding acrobatic feats. Klezmer Local 42, which combines Jewish and Gypsy musical traditions, and Cachaça, a jazz band with Bossa Nova and Caribbean folk influences, will accompany the various acts and ensembles. Finally, the Circus Athena Orchestra will add a feeling of authenticity to the musical backdrop.
As evidenced by the variety of groups coming together as Circus Athena, Austin says he is "tapping into a larger trend of alternative performance arts, with trapeze studios opening [and] juggling acts and puppetry arts getting into the traveling arts business.â€
Some of the performances rely heavily on repurposing found objects, Austin says. "You find something, you take care of it and turn it into something that's worthwhile,†like the aforementioned accordion and an organ saved from the dumpster. Oversized puppets, crafted by artist Gretchen Elsner, are made completely out of salvaged materials.
Historically an African-American vaudeville theatre, the renovated Morton seems, at least thematically, to be the perfect venue for such a variety show. The pre-show entertainment starts an hour before each performance, featuring bands in the lobby, an improv/comedy troupe, and merch and snack sales: pastries, candy bars and sweets by Carrie Laird, pastry chef at The National. As for the audience, Austin suggests they "expect to be involved… It's not a show where you're going to just sit quietly." Geared toward all ages, Circus Athena welcomes everyone.
Circus-style performance may seem like a lost art, but there are dedicated groups of people performing and keeping circus arts alive. Circus Athena is a collective operation held together by passionate folks who care about creating entertainment and art in their community.
"Circus arts can be anything,†Austin says. "Trapeze, dance, mime, clowns and puppetry are all part of it. Circus is play.â€
WHAT: Circus Athena (www.circusathena.com)
WHERE: Morton Theatre
WHEN: Friday, Feb. 17, 7 p.m., Saturday, Feb. 18, 2:30 & 8 p.m.
HOW MUCH: $15 (adults), $8 (under 13), $1 off for anyone wearing their school's t-shirt
Like what you just read? Support Flagpole by making a donation today. Every dollar you give helps fund our ongoing mission to provide Athens with quality, independent journalism.