After a decade of basement shows and DIY activities, the former Secret Squirrel on Broad Street will continue to be a center for artists and musicians as Pixel & Ink Studio's new location. While the main floor is dedicated to co-owners Carolyn Crist and Laulea Taylor's business, the upstairs level is open as Trio Contemporary Art Gallery, directed by Tatiana Veneruso, and plans are underway to transform the lower level into a venue.
Months of work went into renovating the three-story building. After receiving the keys in January and clearing out abandoned remnants, they began working on the facade, most notably an interesting black-and-white mural by James Greer where the Money Machine sign once was. Inside, they painted all the walls, sanded and stained the floors, finished the ceilings and installed HVAC, new lighting and electrical upgrades.
Moving into the new space has allowed the studio to expand its services, which have previously centered around archival printing, scanning, editing, photo restoration and art reproduction. Now, Pixel & Ink will also offer custom framing, with a special focus on unique, harder-to-find colors and textures. In addition to helping artists select the perfect frame, Crist and Taylor hope to work more closely with them by organizing workshops, gallery shows and features for Athens Art Prints, their side project that enables artists to sell on-demand prints. Come fall, the co-owners will begin printing and pressing images onto metal, wood, acrylic, tile and fabric with recently purchased equipment.
Trio officially opened with "Nasty Women Athens," one of over 40 exhibitions organized to demonstrate solidarity among artists in the face of threats to roll back women's rights. Launched by Roxanne Jackson and Jessamyn Fiore in New York City in January, Nasty Women is an ever-growing network that has spread across the globe, celebrating the diverse experiences, ideas and reactions of people who identify as Nasty Women. The exhibitions double as fundraisers, and all of Trio's proceeds will benefit the Feminist Women's Health Center in Atlanta, which offers reproductive health-care services and advocates for reproductive rights and reproductive justice.
"Art can say what you can't put into words," says Crist. "After the election, I remember colleagues and friends wondering what we could do in the days ahead, and the answer was clear—continue to produce what we do best. Whether that's through writing, painting or photography, that's how we could continue the conversation."
Following Trump's inauguration, Crist and Taylor—along with Taylor's 13-year-old stepdaughter Penny Merva, who contributes a drawing to the exhibition—drove to D.C. for the Women's March in January. They also donated prints and buttons to local protests, but still sought ways to engage with and support the community. When Veneruso suggested the idea of opening Trio with a "Nasty Women" exhibition, they saw it not only as an opportunity to promote a cause they believed in, but as a method of encouraging community members to discover and express their own beliefs. The gallery intends to host at least one exhibition per year to fundraise for local causes.
"Although many of the pieces in the show express a point of view, they don't say the same message, and different people experience them in different ways," says Crist. "We've enjoyed watching people pause, reflect and come away with different ideas. It's a way to continue important conversations in our shop every day in a natural way that engages others through art and community."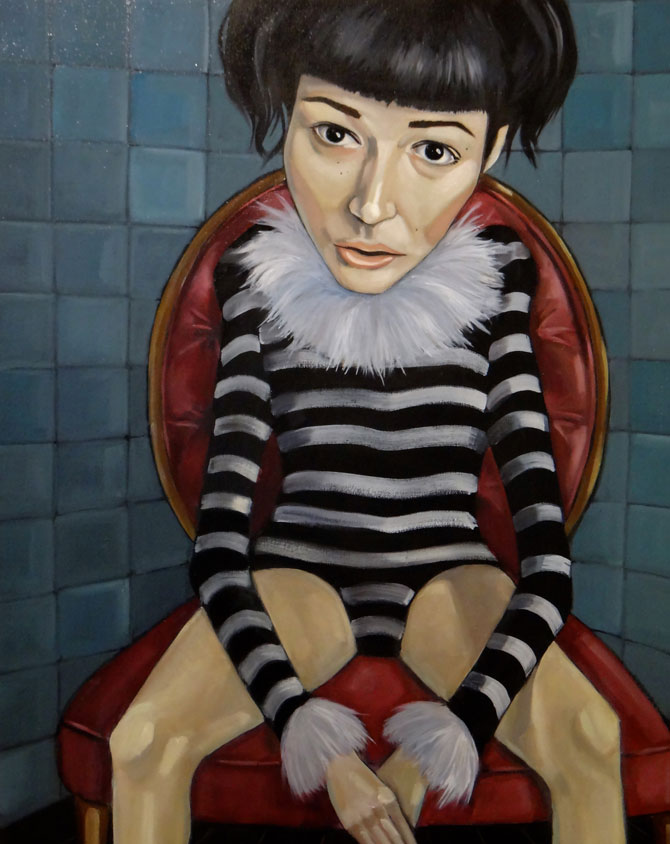 Veneruso and co-curator Melissa Lee selected submissions by over 40 artists from all over the country—and as far away as Tel Aviv—who demonstrate varying interpretations of Nasty Women. As seen on the cover of Flagpole this week, Los Angeles-based artist Dan Litzinger gives a pop-art comic rendition of Nancy Downs, The Craft's ruthless yet bewitching coven leader.
Several pieces bring political activism to the forefront, like the floor-to-ceiling portrait of three women standing in front of the White House by Ariel Dannielle and photographs of protesters by Crist, Beth Thompson and Andrea Wellnitz. Others borrow sensationalized catchphrases, like Melody Croft's oil painting "Nevertheless Persist" and Lindsay Troutman's abstracted "Her Wherever." Locals in the show include Cameron Bliss, Claire Clements, Lisa Freeman, Vivian Liddell, Drema Montgomery, Stacey-Marie Piotrowski and Marilyn Wolf-Ragatz. Jacob Wenzka offers another portrait of free-spirited Juniper, who graced Flagpole's cover last week.
"Art is a language," says Veneruso. "Sometimes words do the job, but sometimes you need something visual to express yourself or to tell a story. And the subjective nature of art can really encourage further dialogue."
Pixel & Ink's next major endeavor is to transform the basement level of the building into The Revolution Room, a space that will honor the Secret Squirrel's legacy by continuing as a center for creativity and experimentation. Under the direction of musician and visual artist Jim Wilson (The TaxiCab Verses, Los Cantares), the venue will serve as a space for concerts, plays, performance art, film screenings and other events. While it will be rentable and open to performances of all kinds, some of the bookings will specifically focus on community activism and social justice.
"I have a lot of great memories of seeing shows at the Squirrel," says Veneruso. "I have lived in Athens 11 years now, and hung out there a lot in those early years. I love the spirit of the place, and we wanted to honor that with this space—to be welcoming and give artists opportunities for experimentation and collaboration."
The studio will launch a crowdfunding campaign within the next month to support renovations, which will include rebuilding the stage and installing a sound system, lighting and recording equipment. To pay homage to the Secret Squirrel, old show posters and various items left behind will be hung to decorate the space. If all goes well, renovations will wrap up by the end of the year.
"Nasty Women Athens" will remain on view through Sunday, Aug. 20, and can be visited during Pixel & Ink's regular hours, Tuesdays through Saturdays from 10 a.m.–6 p.m. Hosted by Ming Vase-Dynasty on Friday, Aug. 4 at 7 p.m., We Will Not Be Silent: A Night of Performance will feature poetry, comedy, dance and performance art by Andrea Boyd, Jennie Cain, Erica Parson, Andrea Wellnitz and others. On Friday, Aug. 18 at 8 p.m., Gonzoriffic will premiere its latest feature film, Space Boobs in Space. The gallery's next exhibition, "#colortheory," opens Friday, Sept. 1 and will explore the impact of color in all of its forms.
Like what you just read? Support Flagpole by making a donation today. Every dollar you give helps fund our ongoing mission to provide Athens with quality, independent journalism.