All Eyes on Iceland: "Parallel Proportions," a one-night art show slated for Thursday, Apr. 24 from 7–9 p.m. at Ciné, seeks to explore the relationship between Icelandic terrain and the country's changing architecture in the 1920s through photography by Ben Rouse, Michelle Norris and Forrest Aguar, metalsmith jewelry by Rhys May and sculptures by Eve Nettles.
Co-curated by Meredith Thornhill and Maria Kouninska, the show was inspired by Claire Buyens—a senior fashion design student at the Savannah College of Art and Design and childhood friend of Thornhill's—who creates fashion designs that reflect Iceland's transition from using birchwood, driftwood and imported woods for construction to using predominantly concrete in the '20s.
"Her pieces are multi-layered, play on proportions and have clean lines, which were inspired by the symmetrical and asymmetrical lines found in the minimal Icelandic architecture that arose after the 1920s," says Thornhill. "For example, Look 2's multi-layers and rough texture of the thick-knit oversized cropped sweater contrasting the smooth asymmetrical cut of the high-waisted skirt suggest the coexisting relationship between Iceland's modern architecture with its brisk climate, vast grasslands, hills, mountains and hot springs."
Though Buyen's own fashion show will be held in Savannah, her mood board, sketches from the six-look collection, fabric swatches and other materials will be on display at Ciné to help illustrate the concept of the show.
Whereas the neon-hued, geometric landscapes by Norris and collection of metalsmithed accessories by May complement Buyens' sharp lines and minimalism, the photographs of Aguar and Rouse reflect more on the color palettes and emotions that arise from looking at the fashion designs and Iceland's terrain as a whole. The works by Nettles play on the coexistence and juxtaposition of modern architecture in a rugged natural environment.
"The beauty of this art show is that it creates a conversation, a discussion of how each person can interpret a concept differently yet keep the central theme apparent in each medium to ultimately tie all works together—that the artists are here to recognize Iceland," says Thornhill.
Model Citizen will style the hair of the women modeling May's wearable art, and The National will cater the reception with an Icelandic-inspired assortment of dishes. Entry is $7, and proceeds from the event will benefit the Athens Mural Project—a project of the Athens Area Chamber of Commerce's leadership development program, LEAD Athens—which is planning to create a large mural of Athens music history on the 40 Watt Club's wall facing Pulaski Street.
Home is Where You Make It: "Living Room," currently on display at the Gallery@Hotel Indigo through Sunday, June 15, features works by eight Athens artists that all consider the home environment.
Taking the most literal approach, Patrick Brien examines ideas of architectural and conceptual space in his blueprint-like renderings of houses. Erin McIntosh also focuses on structural design of houses, but abstractly through sharply lined geometric shapes and splashes of color. Inspired by his personal recollection of various events, Benjamin Britton creates large abstractions using fragments of textile patterns.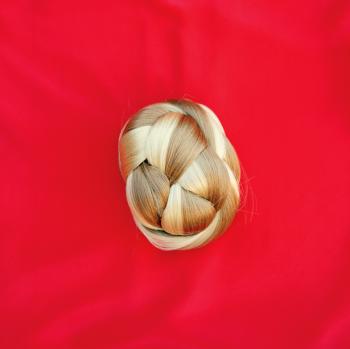 Rachel Cox, a current faculty fellow at the Lamar Dodd School of Art, presents melancholic photographs taken from a larger series that contemplate and reflect on the death of a family member. Objectively neutral objects like wigs and rows of jewelry boxes take on a certain sadness when imagining the process of sifting through a loved one's possessions. The eerie, black-and-white photographs of Emily Hadland are set at dilapidated Southern houses, invoking the viewer to wonder what circumstances resulted in homes being abandoned and left to the elements for so long.
The bold pop art graphics by Carol John and highly textured household scenes by Andy Cherewick take a more light-hearted approach. Brock Gordon's paintings are similarly playful, belonging to "8-Bit Holy Ghost," a series of works that reference screenshots of early video games and are abstracted into simplified environments of pure color.
Like what you just read? Support Flagpole by making a donation today. Every dollar you give helps fund our ongoing mission to provide Athens with quality, independent journalism.