ACC LIBRARY (2025 Baxter St.) On view in the Quiet Gallery, "Stories Told" features collages by Susan Pelham, who is influenced by Magic Realism, nursery rhymes, children's camp songs, limericks, haiku poems, the Renaissance and 20th-century folk art. Through Aug. 29.
ATHICA@CINÉ GALLERY (234 W. Hancock Ave.) Greg Benson creates painterly landscapes and seasonal views of locations around Georgia and his native state of Pennsylvania. Through Aug. 25.
BUVEZ (585 Barber St.) Station Thirteen Studios, a new studio run by brothers Baylor and Matthew Ward, present "It Is What It Is," an exhibition of paintings by Matthew. An opening reception featuring additional videos will be held Aug. 21 from 5–9 p.m. Paintings remain on view through August.
DODD GALLERIES (270 River Rd.) "Art Rosenbaum: 'Adamham Town,' 'The Grey Rabbit Trilogy' and Other Recent Paintings" presents works by Wheatley Professor in Fine Arts Emeritus, Art Rosenbaum. Virtual Artist Talk held Aug. 19 at 7 p.m. On view through Aug. 19.
EARTH FARE (1689 S. Lumpkin St.) Silk paintings by Margaret Agner. Through August.
FLICKER THEATRE & BAR (263 W. Washington St.) Jason Griffin presents 25 years of flyers for punk shows. Through August.
GEORGIA MUSEUM OF ART (90 Carlton St.) "Contemporary Japanese Ceramics from the Horvitz Collection" represents three generations of artists dating from the 1940s. Through Sept. 26. • "Modernism Foretold: The Nadler Collection of Late Antique Art from Egypt." Through Sept. 26. • "Power and Piety in 17th-Century Spanish Art." Through Nov. 28. • "In Dialogue: Artists, Mentors, Friends: Ronald Lockett and Thornton Dial Sr." focuses on one work by each artist to examine their friendship and compare their creative approaches. Through Nov. 28. • "Kota Ezawa: The Crime of Art" pays homage to the objects stolen during the Gardner Museum heist in 1990 through light boxes, color-blocked graphics and video animation. Through Dec. 5. • "Neo-Abstraction: Celebrating a Gift of Contemporary Art from John and Sara Shlesinger." Through Dec. 5. • "Whitman, Alabama" features 23 of 52 films from journalist, photographer and filmmaker Jennifer Crandall's ongoing documentary project of the same name. Through Dec. 12.
HEIRLOOM CAFE (815 N. Chase St.) "Summer Dream" features paintings by Susie Burch. Through Aug. 23. • Amanda Corbett of Salvage Sparrow Photo presents a collection of tintypes, a 1850s technique called wet plate collodion. Opening reception Aug. 24, 5:30–6:30 p.m. On view through Nov. 1.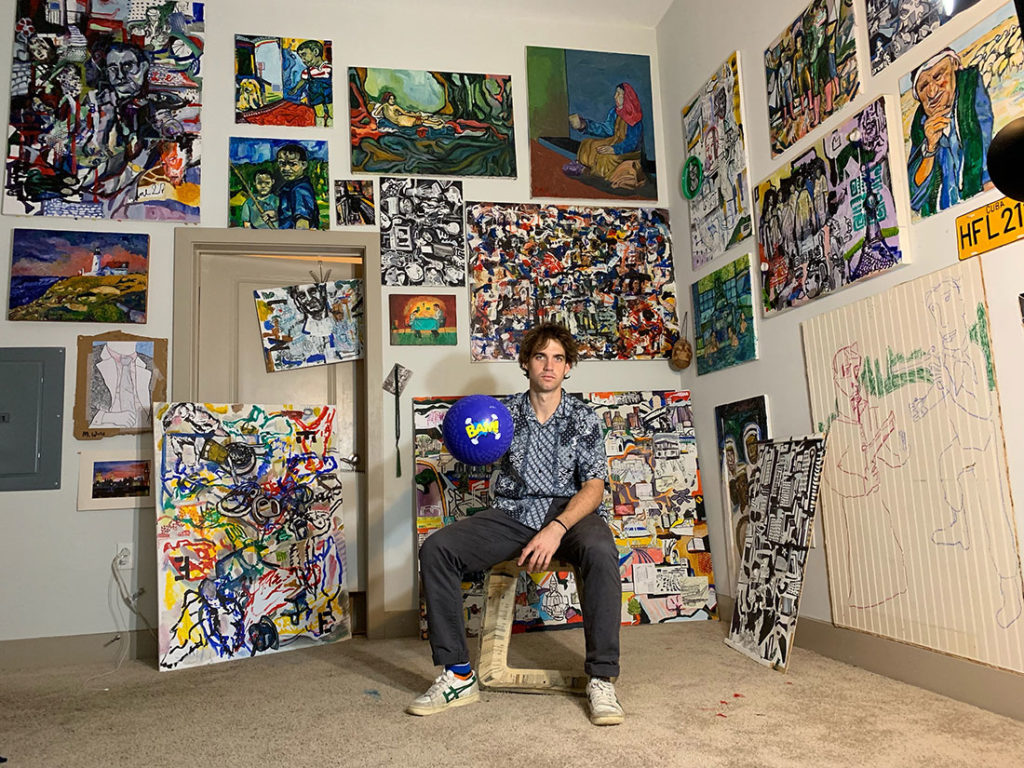 LYNDON HOUSE ARTS CENTER (211 Hoyt St.) AJ Aremu presents a large-scale installation for "Window Works," a site-specific series that utilizes the building's front entrance windows for outdoor art viewing. • "Collections from our Community: Oscar's Godzillas" shares Godzilla memorabilia collected by Oscar Justus. • "Inside Out: Expressing the Inner World" presents abstract paintings by a group of women artists working in the Southeast. Through Oct. 23. • "Something I've Been Meaning to Tell You" presents works by Brian Hitselberger and Julie Willis. Through Oct. 16. • "Modernist Sculptures from the Legacy of Loyd Florence." Through Oct. 23. • "i vs me" features paintings by Andy Cherewick and Jeffrey Whittle. Through Oct. 15.
MASON-SCHARFENSTEIN MUSEUM OF ART (567 Georgia Street, Demorest) "Michael Ross: Foothills" features lush depictions of forests, fields, wetlands, birds and people. Closing reception Aug. 19 from 5–7 p.m.
OCONEE COUNTY LIBRARY (1080 Experiment Station Rd., Watkinsville) Paintings by Broderick Flanigan. Through August. 
STATE BOTANICAL GARDEN OF GEORGIA (2450 S. Milledge Ave.) In the Athens Art Association's exhibition, "New Art for a New Century," 26 artists present watercolor, acrylic, color pencil, multi-media and fused glassworks. Through Oct. 16.
STEFFEN THOMAS MUSEUM OF ART (4200 Bethany Rd., Buckhead) "Steffen Thomas' Animal Kingdom" features artwork inspired by animals. Workshop held Aug. 21 from 10 a.m.–12 p.m. Currently on view through Sept. 4.
TINY ATH GALLERY (174 Cleveland Ave.) Alexis Spina presents jewelry and small metalworks in "Future Remnants." Open Third Thursday on Aug. 19 from 6–9 p.m. On view by appointment through August.
UGA MAIN LIBRARY (320 S. Jackson St.) "Georgia Trailblazers: Honoring the 60th Anniversary of Desegregation at UGA" chronicles the historic events of 1961 when Hamilton Holmes and Charlene Hunter became the first African American students admitted to the university.
UGA SPECIAL COLLECTIONS LIBRARIES (300 S. Hull St.) "The Hargrett Hours: Exploring Medieval Manuscripts" presents original items from the collections, dating back centuries, as well as findings from students' in-depth studies. Through Aug. 26. • The new Ted Turner Exhibition Hall and Gallery showcases CNN founder and environmentalist Ted Turner's life and legacy through memorabilia, photographs and other items. • "New Again: Selections from the Rare Book Vault" includes examples of handmade tomes dating back centuries, as well as contemporary books that combine centuries-old techniques with a modern aesthetic. Through Aug. 27. • "Drinkable Water in Georgia" is an interactive exhibit tracing the geographic, environmental and political factors that surround the natural resource and how those issues have impacted Georgians. Family Day is held Aug. 28 from 1–4 p.m. Currently on view through December.
WHEN IN ATHENS (Multiple Locations) Organized by The Humid with support from an Arts in Community Award from the Athens Cultural Affairs Commission, "When In Athens" is a city-wide public art exhibition of images by over 100 photographers made in every Athens. Photographs are installed in the windows of street-facing businesses. Participating locations include Creature Comforts, Georgia Theatre, The Grit, Hi-Lo Lounge, Trappeze Pub and many others. Visit the humid.com for a full list of participating venues. WILLSON CENTER FOR THE HUMANITIES AND ARTS (Online) As part of UGA's Spotlight on the Arts, the Willson Center presents "Shelter Projects," a virtual exhibition of over 30 projects created by graduate students or community practitioners who reflect pandemic experiences through the arts. Visit willson.uga.edu.
Like what you just read? Support Flagpole by making a donation today. Every dollar you give helps fund our ongoing mission to provide Athens with quality, independent journalism.